The Daily Driver – An Update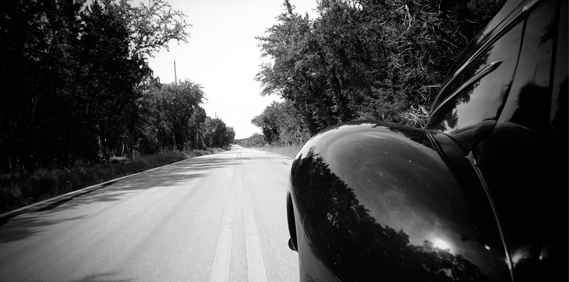 A few months ago, I told the story of my daily driven '39 Sedan. It was a story of risk really… See, I'm about as sharp as a marble in the shop. Driving an old car, keeping up with the maintenance, and just generally avoiding the pitfalls of my own idiocracy is an extreme challenge for a guy like myself. Even the most simple of problems can be amplified by my own ineptitude. I took the risk knowing all of this before hand, but because of my sick passion for old cars and driving them, I did it anyway.
I've now driven the '39 every day since December 5, 2009 – a total of almost 10,000 miles. And you know what? It's been just as romantic as I had hoped it would be.
It's somewhat popular to tout the inefficiencies of bias ply tires. Mine have been a joy to ride on daily.
Some folks claim that Flathead Fords require too much maintenance to power a daily driven car. Mine has been flawless (Ed: keep reading) since December – The only maintenance being oil changes every 500 miles.
I know a ton of folks that look down at early top loader trannies and search out modern T5's to ease their experience. My top loader makes my driving experience. I love the feel and the sound. I wouldn't trade it for the world.
I guess the point to this entire rant is one more of self motivation. See, I never want to be one of those guys that writes in glowing form and ignores the reality of life – the bad shit. And I've had my first real setback with the '39. This post was written to motivate myself… to remind myself that I've been doing this and can continue to do so. Dammit.
Last Friday I pulled up to a stoplight half way between my home and my office only to be greeted by a pretty nasty tick coming from the flathead. I revved and the tick revved with me. It sounded like a valve.
Now, to most of you fellas adjusting the valves on a flathead is no big deal. To me, it is… See, I've never done it before. It's the unknown. It's scary. Mostly, because this is the car that I rely on to get me from A to B everyday. I don't have time to fart around for a week while I think about the best way to tackle this. I can't afford to miss work. This is life – not a hobby. And somehow, when an old car becomes life it becomes all the more special to ya.
I can do this.
In any case, I'm driving the Tardel/Cochran Coupe this week. Silva is gonna guide me through the valves this weekend. Reggie might even jump in as well. I will update you with all the gory details next week.
………………..
47

Comments on the H.A.M.B.