The Daily Driver
The drive from my house to The Jalopy Journal World Headquarters is a peaceful 10 mile jaunt through the small town of Dripping Springs, over a few hills, and down a couple of country roads. It's the kind of drive that poems are written about. It's a romantic setting that was seemingly built by the gods to be traveled by way of an old car.
The more I made the drive in my late model truck, the more I began to dream about doing it in an old car every day. It wasn't too long before my mind was set. I sold my late model and labeled my '60 Chevrolet wagon as a "daily driver." Typically, decisions like this end in disaster. You know how it goes – What seems romantic is anything but when the novelty wears off and the realism of driving something with less creature comforts than you are used to sets in. I waited and waited… I drove and drove… but the novelty never wore off.
For all intents and purposes, the '60 wagon is a brand new car with a high powered crate motor, an overdrive automatic tranny, 4-wheel power disc brakes, air suspension, power steering, air conditioning, nice stereo, etc… To be perfectly honest, I wasn't "roughing it" in an old car at all. If it got hot, I turned on the a/c. If it rained, I flipped on the wipers. If I got bored, I nailed the throttle.
The '60 Chevrolet wagon served me dutifully and in cush fashion. Unfortunately, I can't afford to keep it. It's for sale if anyone is looking for a great daily.
For six months, life was easy and grand. I was making a beautiful drive in an old car that I enjoyed and I really didn't suffer a single trade-off. And then, it happened… I took a drive with Lee Pratt in his flathead powered shoebox up to Kansas. Of course we suffered a road casualty on the trip, but that "minor" set-back didn't deter my mind from wondering. Lee's little shoebox was so simple mechanically (all stock for the most part), so archaic in technology (no a/c or power anything here), and so damned romantic in my mind… From that point on, I was determined to find the right early Ford to drive every day.
I bothered Danny for months. He had a '39 sedan that perfectly fit my vision and he was mildly interested in selling it. It took some doing and certainly some pestering, but I finally talked him into selling me the car for a price I could afford. As a readied canvas, the car couldn't be more appropriate. Danny started with an all original and incredibly solid survivor. He then added a dropped axle, reworked springs, and tube shocks to get the car sitting and riding right. For power, he dropped in a fresh 264-inch flathead with dual carbs sitting on an Edmunds intake that fed a pair of Offy heads. The only real modern appointments that Danny added was an alternator and an electric fuel pump. I plan on replacing both in time.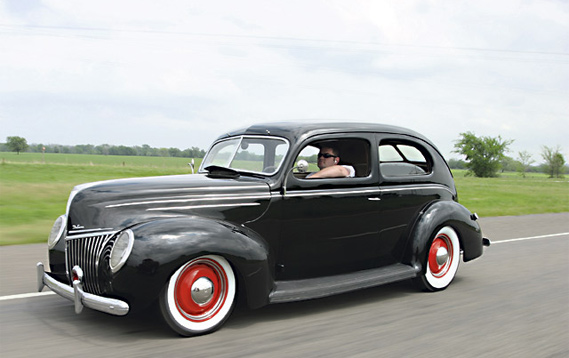 Danny taking a spin in the '39 before handing over the keys.
Past those modern appointments, however, I don't plan on doing much to the car. The original paint is in remarkable condition and while the original interior is tattered and rough, the patina is simply wonderful. For all intents and purposes, this car was ready to drive and for the past three months, that's exactly what I've been doing with it… every single day… rain, sleet, (and amazingly enough considering my location) snow!
Again, you would expect the novelty to wear off in time. It hasn't. Not even with the bitter cold (to our standards) we've braved this winter or the pouring rain we've had just about every week since I started this experiment. It's become a passion of sorts. I've often heard that folks should never make their passion their norm and I've broken that rule in just about every aspect of my life successfully. Three months in and I can confidently say that I've done it again… successfully.
That doesn't mean it's been all sugar and candy. The flathead, of course, isn't filtered and I'm a bit paranoid. I start to freak out if I don't change the oil after every 500 miles or so. This exercise is actually fairly enjoyable, but I have a busy lifestyle and have to budget my time smartly to get the intervals in.
Fuel economy has also been a bit of a concern. Danny ran a pair of Holley 94's on the car and while it ran hard, it didn't seem as fuel efficient as it could be. My ten mile commute (20 round-trip) saw no better than 12 miles per gallon. Uncle Max talked me into replacing the 94's with a pair of his rebuilt Stromberg 97's and as a result, my mileage has improved to a more respectable 16 per gallon. Even so, the car is still a solid runner and I credit that to Max's talent.
After time, I also got really tired of cleaning the white walls. Maybe I've got some mild form of OCD, but even a smudge on the tires would put me over the edge. In respect to my sanity, I replaced the orange wide-five wheels and wide-whites with a tried and trued Tardel/Cochran combination – black on black. Admittedly, the car was a bit more striking with the white-walls, but the new rolling stock fits my personality a little better and I can always throw on the old rolling stock when I need to be a bit more formal.
And then there is the glass. It's invigorating to drive down the road and take in the sights through glass that has never been out of the car. It inspires me for some reason. Unfortunately, however, it's getting harder and harder to do as the original glass seems to be deteriorating on a daily basis. Bob's Classic Glass (good, good people) sent over some new glass and I will be installing it all just as soon as I save enough money to buy new rubber and fuzzies.
So, yes… There have been trade-offs this time around. Driving a 60 year old car every day isn't as convenient as sporting a late-model. More than anything, it's been a commitment to a different lifestyle. Life slows down in the '39 and mentally, I've had to slow down a bit with it. I leave for work a little earlier and get there a little later. I take my time and try not to worry so much about efficiency. My old car and I will get there when we get there.
In any case, this is the first post in a long-term driving test. I'll be sure to keep you all updated with my adventure and the joys and pains that I am sure will follow.
161

Comments on the H.A.M.B.