The Frank Cochran Testimony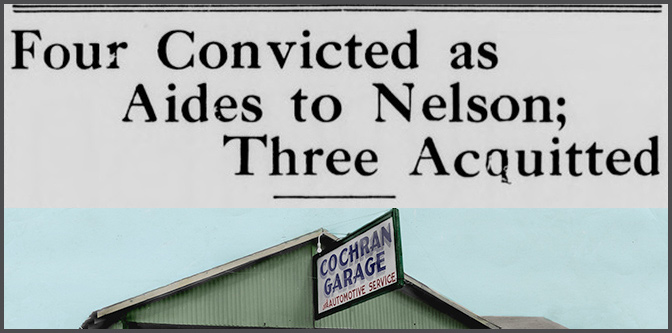 Back in 2017 or so, I obsessed for months over my extended family's involvement with Baby Face Nelson, his gang, and his crimes. Going in, I knew it was going to be a rabbit hole… I just didn't realize how deep it would be. You can read that story here.
While doing that research, I sent a freedom of information request to both the federal courthouse in San Francisco as well as to the local courthouse in Reno, Nevada – hoping to get the testimony given by Frank Cochran.
I heard nothing until this past Friday when I received what I guess is that testimony. If your interested, you can read it here:
SAN FRANCISCO, March 30. Over the strenuous objections of defense council the statement made by Frank B. Cochran, Reno garage proprietor, to department of justice agents concerning the activities of the Baby Face Nelson gang in Nevada, was admitted as evidence in federal court here yesterday and the full statement is part of the court record.
Cochran is one of the defendants in the trial of several persons charged with harboring Nelson and his gang Nevada and California last year. Cochran's statement in full is as follows:
COCHRAN STATEMENT
1, FRANK BRADFORD COCHRAN, make this statement voluntarily to Vernon E. Criss, Lew D. Nichols, Special Agents, Division of Investigation, Department of Justice of the United States, and E. P. Carville, United States Attorney for the District of Nevada, without any threats, coercion or promises of any kind or nature. This statement is supplementary to the statement that I made to the said Vernon E. Criss, J. T. MacLaughlin and C. E. Weeks, all Special Agents of the Department of Justice, at Reno, Nevada, dated November 12, 1934:
That sometime during the latter part of February or early part of March, 1934, Jimmy Burnell, who I now know to be Lester Gillis alias Baby Face Nelson, and Johnny Chase drove into the Air Service Garage with a 1934 Hudson Sedan with a California license. I have no idea what the license number was.
The next time that I remember seeing them was in March, which is shown by my records of March 20, 1934. When Jimmy came into my place of business this time it was to make payment on his account. At this time, to the best of my memory Jimmy Burnell and Johnny Chase were together and were driving either a Ford or Hudson car.
To the best of my recollection the next time I saw Jimmy and Johnny was approximately a week after Roy J. Frisch disappeared from Reno, Nevada, March 22, 1934.
One evening sometime in the early part of June, 1934, Tex Hall, part owner of the Bank Club and also parwner of Calneva, telephoned me at way home and told me to come down town and see him and stated that he would be waiting for me in front of Collins' Pawn Shop, whichis located between Douglas Alley and Commercial Row on Virginia Street. This must have been between nine or ten o'clock. I drove in my own car to the place of appointment and Tex Hall came over and talked to me for a minute and then beckoned for another man who was standing near to come over to the car. I did not know at this time who the man was but now know him to be Joseph Negri alias Fatso. Previous to this I had told Tex Hall that Jimmy Burnell and Johnny Chase had left their Hudson Sedan with me. Hall told me at this time to deliver Jimmy's car, the Hudson, which was stored in my private garage, over to Fatso. I then drove Fatso out to iny home where I turned Jimmy's Hudson sedan over to him. The tail light of the Hudson was not working so we went to the Air Service Garage and I repaired the same. I then accompanied him to the main highway leading east and gave him directions for going east. He gave me One Dollar and Fifty Cents ($1.50) for taxi fare pack home.
Sometime during the summer I observed Jimmy's picture in a magazine and identified him as being Lester Gillis, alias Baby Face Nelson. Subsequent to this or about August 24, 1934, Jimmy and Johnny and a man whom they introduced to me as Jack Morgan, who I later learned was Jack Perkins. They drove out to my home in the Hudson Sedan with a California license, but not the Hudson which was taken by Fatso above referred to. They also had at this time a new dark colored Plymouth Coupe which also had a California license I think, but I am not sure. Johnny came to the door and called me out where Jimmy and Jack were sitting in the car. Jimmy asked me to take the Hudson the next day and repair it, and Jack Perkins who was to stay in town that night was to call for it the next day. He did this, calling for it at the Air Service Garage.
On or about September 21st, 1934, Jimmy, Fatso and Helen, who is Jimmy's wife, were parked in front of my home when I returned with my wife. Jimmy asked me at the time if I thought my children would recognize him. I told him I did not think they would. The Hudson which they were driving was damaged. They told me the repairs that were needed and asked me if they could borrow my 1929 model Buick sedan, black Colored. I told them they could. We then drove both cars into my private garage, in the rear of my home, and transferred their guns, bullet proof vests and camping equipment from their car into mine. After transferring the equipment mentioned they came into my home and visited with my wife and I for several hours. They stayed until I told them I had to go to bed because I had to give Judge Curler a flying lesson the next morning.
In about five or six days Jimmy, Helen and Fatso returned with my car. I came out of the show and found them parked in my Buick be- side their Hudson which I had driven down town and to the show. We then drove out to my home and drove both cars into my private garage, where their equipment consisting of guns, bullet proof vests and camping equipment, was put from my Buick sedan back into their Hudson. After this was done they came back into my house and visited with my wife and I again. The bill for the repair work I had done on Jimmy's Hudson amounted to Two Hundred Dollars ($200.00). He gave me a roll of bills that amounted to Two Hundred and Fifty Dollars ($250.00).
They made several trips to my home at night on various occasions. On one occasion they brought a live turkey. Another time they brought four pheasants, a mud hen and a duck. Jimmy, Fatso and Helen brought them to my house. My wife cooked the pheasants then and we had dinner together. Several days
Jimmy, Fatso and Helen came to my home and asked me if they could again borrow my Buick sedan. Jimmy told me he wanted some work done on the Hudson, such as taking out the tire from the rear, installing a gasoline tank, purchasing some fender wells (two front) and having a siren installed which I had showed to him. He wanted to borrow my Buick while the work was being done. I let him take my car with the equipment that he had in his Hudson consisting of guns, bullet proof vests and other suit cases were stored in my basement. I helped them put them there.
They used my car on this occasion for about four days. I had previously gone into California and made application for a California license as one cannot solicit business in California without a license. I had not received the plates but had a sticker on my wind shield which showed that I had made application for the above license. This license was applied for in the name of Anna E. Cochran, which is my wife's name. The car is also registered in her name.
When they returned the car they left with me two or three cots, a camp mattress for one of the cots and a water bag. When they drove my Buick sedan home Jimmy's Hudson was down in the Air Service Garage. I went down and got it and drove it into my private garage. They drove my Buick sedan into my private garage also. We carried. the guns, bullet proof vests and equipment which had been in my basement and placed them in the Hudson. Also transferred equipment that was in the Buick into the Hudson. I had not installed the fender wells or gas tank but did install the police siren and make other repairs on the Hudson.
At this time Jimmy told me about shooting a Federal Agent at Little Bohemia, Wisconsin, and how he could not figure out why he was not shot at the time due to the fact that as he swung around one of the Agents he saw another agent pointing a gun directly at him. For some reason the Agent did not pull the trigger. He shot the other Agent.
The next time I saw him or any of this group was when Johnny Chase drove up to my home in an Airflow DeSoto, 1934, bearing a New York license plate. On or about the evening of October 8, 1934, I told him that DeSoto automobile needed a lot of repairs which he had listed and told me other work that it needed. I then drove Johnny Chase down to the El Cortez Hotel returning then to my home. I then took my wife out for a ride in this car. We drove around Reno and vicinity. I then took the car down to the Air Service Garage the next morning. That evening Johnny Chase came out to my home. He came into my house and visited with my wife and I. I do not remember exactly why he came.
The following day Chief of Police Kirkley, Sheriff Trathen, Lefty Harding located the DeSoto in the Air Service Garage. The Federal Agents stayed in and around the garage waiting for the owner to come after the car. That evening Chase came out to my home and he learned then from me that the Agents were watching for him to come after his car. I promised the Federal Agents that afternoon that I would cooperate with them in apprehending Johnny Chase.
Johnny Chase told that he would walk out the Virginia Road and left. Johnny apparently knew that later on Jimmy, Helen and Fatso were coming to my house, or were going to be driving along Virginia Road. Shortly after Johnny left Fatso knocked at my door. I had parked in my drive-way, as previously arranged with Jimmy, an automobile which would indicate to him not to drive into my drive-way or private garage as something was wrong. I told Fatso that I was being watched; that he was to get away from there and that Johnny was walking out Virginia Road. I then took my automobile, and accompanied by my wife drove out Virginia Road and picked up Johnny and started driving shortly toward Carson City.
Shortly thereafter Jimmy, accoinpanied by his wife and Fatso drove up along side and I motioned to him to follow me and I turned off the road on Geiger Grade where we stopped and talked and Johnny then left my car and got in with Jimmy and the others. We arranged to meet the following night on the road leading out past Reno Hot Springs off the Virginia Road. The following night or two nights later, as arranged, I drove out to the designated spot where I met Jimmy, Helen and Johnny who were then in their Hudson Sedan. At that time I gave Jimmy and Johnny the number of the license plates on the car which the federal agents had in my garage, as well as a description of the car and of the agents. I wasn't positive about the description of the second car. They told me, if I remember, at this time, that they were living at Wally Hot Springs, this was or about October 12, 1934. Johnny turned over to me on this occasion the ownership certificate for the DeSoto Sedan, which was in the Air Service Garage being watched by the federal agents. This is all that I can remember that took place on this occasion.
We arranged to have a meeting about two nights thereafter at the same place. At that time I told them that I had seen one of the federal agents come in with his car all over mud and that he was having new tires put on his car, which indicated that this agent, was out checking throughout the state trying to locate them. Johnny told me that he had left Sixty Dollars in a suit of clothes in the DeSoto. I did not see this Sixty Dollars as I reported I had to the United States Attorney. I do not know who obtained this Sixty Dollars, if it was in the suit of clothes.
After Johnny drove the DeSoto Sedan into the garage and before the Federal Agents began to watch it Verne Huckabee, accompanied by someone else, whom I do not know, had the car out driving it around. We arranged to have a meeting about two nights later, but I did not keep my pre-arranged meeting with Jimmy, Johnny, Fatso or Helen. Three or four days later one evening when I left the Air Service Garage for home, Jimmy, Johnny and Helen in the Hudson Sedan stopped me on California Avenue, about two blocks from Virginia Street in Reno, Nevada. I told them about being taken up to the United States Attorney's office and being questioned by the United States Attorney and federal agents. This was the last occasion that I ever saw Jimmy, Johnny, Helen and Fatso. Thereafter I destroyed the certificate to the Airflow DeSoto automobile, three cots which were left at my house, as well as the mattress. I also destroyed the small siren, which I removed from the Hudson Sedan when I installed a large police siren.
I have no information whatsoever concerning the disappearance of Frisch. I have a vague memory that one occasion Jimmy stated that they were trying to pin the Frisch case on him. There were no other comments at this time. I believe Fatso was present when Jimmy made this statement.
At the time of the acts above stated, when I informed Jimmy, Johnny and Fatso that the government men were after them I fully realized that my acts were wrong. This statement consists of five pages, each of which is signed, or initialed by me and the whole of which statement is signed by me with my own free will, as afore-mentioned. In the latter part of September or the first part of October, 1934, my wife and I positively knew Jimmy Burnell was Lester Gillis alias Baby Face Nelson, a fugitive from justice and talked about it.
FRANK B. COCHRAN.
VERNON E. CRISS, Special Agent,
Division of Investigation, U. S. Department of Justice.
LEW D. NICHOLS, Special Agent, Division of Investigation, U. S. Department of Justice.
***
Obviously, Frank was trying to give the feds what they needed to convict Nelson… But not so much that he and his wife would be further implicated. I think it's a safe bet to say Frank had worked a backdoor plea deal of sorts. Both he and his wife were convicted and sentenced to 1 year – a light penalty for a crime that probably resulted in the deaths of two FBI agents.
In fact, in 1948 a number of prominent business men and politicians from Reno petitioned President Truman for a presidential pardon of Frank Cochran. J. Edgar Hoover caught wind of this and was quoted as saying, "If Cochran had done his duty and reported Nelson's presence to law enforcement, two FBI agents might never have been killed."
Hoover then went on to launch a vigorous investigation of Cochran and his family that cost tax payers millions in today's money. The pardon, however, was granted by Truman and Cochran lived the rest of his life with a clean record and with constant harassment from the FBI.
I don't know that I'll ever know what happened behind the curtains with Frank, the Nelson gang, the FBI, and Truman… But something was most certainly amiss. Just how does a guy go from a hot rodder to a member of the Nelson gang to a Presidential Pardon in one short lifetime? Not a lot of sense to be made with the publicly available information and I'm afraid I've come to the end of that road.
56

Comments on the H.A.M.B.