The Clyde Sturdy Roadster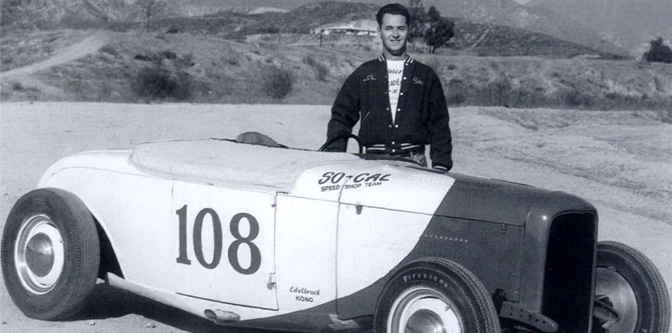 Without doubt, the best branding job in the history of hot rodding was done by So-Cal Speedshop. They had a very clear mission and every public facing piece of media they put out pointed to that mission – GO FAST! From the beginning in 1946 to well into the 1950's, they communicated this with both consistency and validity.
The most important and visible aspect of this branding was probably the most elementary as well – the paint jobs. If the car wasn't painted with those trademark scallops, it wasn't a S0-Cal car. If the car didn't perform, it didn't sport the scallops for long. That paint job became a badge of honor of sorts… and some of the most important hot rods of our time sported them.
One roadster, however, has been over looked in my opinion and that's Clyde Sturdy's channelled Class-B modified. To write a long story short, Clyde was added to the So-Cal team in 1950 but by 1951 the class rules at Bonneville had changed and his channeled car was both too heavy and not aerodynamic enough to compete with the likes of the purpose built race cars that were filling the class. As such and as far as I know, Clyde's roadster only wore the scallops for a short while. But for that short while, I don't know that there was a better looking hot rod roadster on the planet.
I started thinking about Clyde's car this morning and went on a feverish search of my archives for images. Thus far, the search has only returned three rewards. Those are posted below… But, I will update this thread as I find more. If you have any, please help me out and add them to the collection!
12

Comments on the H.A.M.B.