1963 Ford Pickup: 3-in-1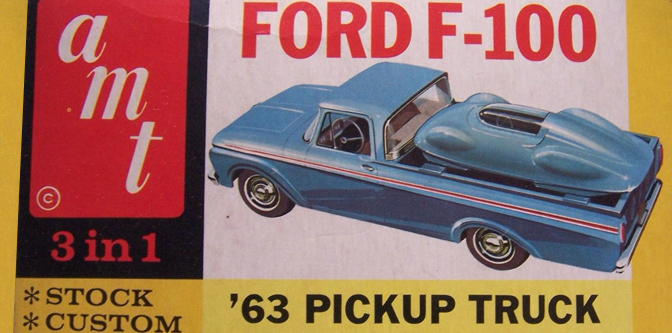 So a friend of mine bought a 1963 Ford F100 right before the whole world went to hell in a hand basket. Knowing I owned one at one time, he texted me looking for inspiration pictures. While I'm more of a hot rod guy, he's more of a custom guy and wanted the truck to lean more his way.
Initially, I didn't think I could help. A "custom" 1963 F100 sounded a little bit too far gone to me… But I gave it a shot out boredom, fired up my archives, searched Google, etc… And that's when I found the 1963 Ford Pickup 3-in-1 kit from AMT.
As far as I can tell, this kit came in two variations – one a bit more radical than the other. I prefer the less radical (without the cliche fins), but both are pretty charming. The racing "heritage" doesn't hurt either…
Anyway, I kind of love this thing and wondered if anyone has ever built it?
21

Comments on the H.A.M.B.