Happy 70th Birthday, (Grand) National Roadster Show!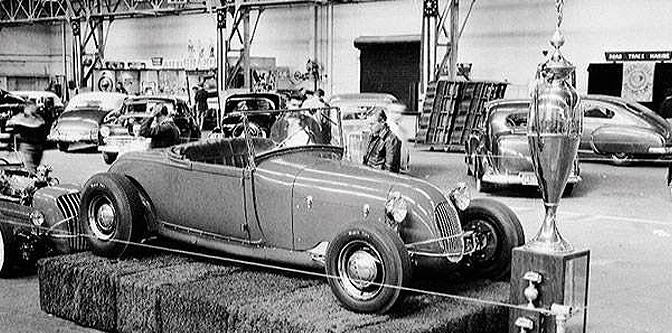 Wait, wasn't the 70th anniversary of the GNRS last year? Didn't I even say the show started in 1949? Well, sort of… Al & Mary Slonaker tried a hot rod show in San Francisco in 1949, but it wasn't a success. The following year they moved the idea across the bay to the Oakland Exposition Building and billed it as the *First Annual* 'National Roadster Show' and added the coveted 'America's Most Beautiful Roadster' award. Oakland has a long history of being more grass roots, accessible, and definitely more vehicle-friendly than it's snooty brother SF, so it paid off. The Slonaker's also realized that they needed more than just Bay Area jalopies to show up, so an ad in the October 1949 issue of Hot Rod magazine helped get the word out. That got Los Angeles, the cradle of post-war hot rodding to show up, including Barris Kustoms and So-Cal Speed Shop. Even the inaugural 1950 AMBR winner Bill NieKamp was from Long Beach. The National Roadster show was off and running, and the rest is history, Seventy years later… Not Seventy-One.
14

Comments on the H.A.M.B.