Lance Reventlow And The First Scarab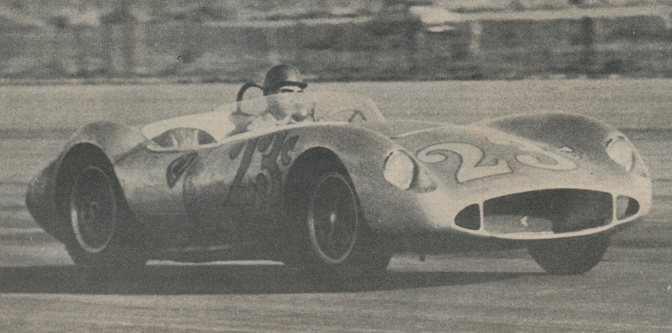 In 1958, Lance Reventlow was essentially a young and rich playboy with a pension for speed. He was the lone heir to the Woolworth fortune, so his funding for shenanigans was thought to be endless… But regardless of his spoon fed upbringing, Lance was a determined cus and he made it his life's mission to test the limits of his handed-down fortunes. His first real attempt to achieve insolvency was the Scarab – an all American race car designed to smoke even the most agile of European offerings.
But before Scarab, there was the "Mystery Car." This cloaked cart of speed was designed and engineered by Tom Barnes, Dick Troutman, Chuck Daigh, Emil Diedt, and Warren Olsen under great secrecy sometime in the mid-1950's. It's been said that the only outsider to know of the car (or at least the intention to build it) before its official release was James Dean – a close racing pal of Lance's. It took a number of years to design and develop, but by 1957 the cat was out of the bag and the car began making appearances in the US racing and winning against international teams at smaller American Born events.
And with the cat released, Lance figured it would be OK to throw a dog a bone. He called his pal, Les Nehamkin, and gave him the green light to photograph the car with the skins removed. The resulting photos and a small article were featured in the back of Motor Life Magazine in May of 1958. Shortly after, Lance renamed his car the Scarab and began to focus on the Formula 1 series in Europe. As such, the Scarab became the first American built entry in the fastest and most competitive racing series in history. Success was limited but in all, eight total Scarabs were built and by the 1960's Lance had grown out of his need for speed and moved on to other endeavors – leaving his facilities and many of his resources to Carol Shelby and his effort to build the Cobra.
Lance went down in a Cessna in 1972 never having realized the limits to his fortune.
***
I've always loved the story of Lance Reventlow and have often wondered when the movie will come. I've heard stories about the man from both Carol Shelby and Joe Mabee that have made me literally question reality. He was what Howard Hughes would have been had he kept his sanity and grown a passion for racing rather than hollywood. Sincerely what legends are made of…
Anyway, I recently stumbled on that Motor Life article ran by Lance's friend Les and thought I would run it here. Enjoy:
25

Comments on the H.A.M.B.