The Mabee Special
I was pretty young when my dad and I decided to get serious about drag racing. Through the years we campaigned a number of different cars with differing degrees of success. It was my personal golden era and a period I will never forget. Amazingly, some of the most memorable moments didn't go down at the track. See, we had this pal that had a private runway just outside our home town of Midland, Tx. It was the perfect spot to "test and tune" our race cars for a couple of reasons.
The first is obvious… One long and wide patch of asphalt proved to be a great place for a young guy like me to learn about the intricacies of driving some pretty serious race cars. In fact, I wasn't more than a few days older than 15 the first time I drove a sub-9 second S/C car at more than 140 mph down that airstrip. My pop must have been nuts…
A rare shot of your author with his pops looking on. I was just over 15 years old when this was taken at the Mabee airstrip. I can remember this exact moment as if it were yesterday. Scared and excited, my first line lock assisted burn out was just minutes away.
The second is less obvious. Our hosts, Guy and Joe Mabee, had exquisite taste in all things mechanical. It wasn't uncommon for a test and tune session to end with a ride in a P-51 Mustang or a tour of an amazingly complete private collection of aircraft. I remember one specific session that was interrupted by Mr. Mabee roaring out of a hangar in a Ferrari F40 looking to race. Our Lee Sheppard built '67 vette made short work of the prancing horse in the quarter, but it didn't take long for the F40 to make up the difference. My respect for the Italian started then.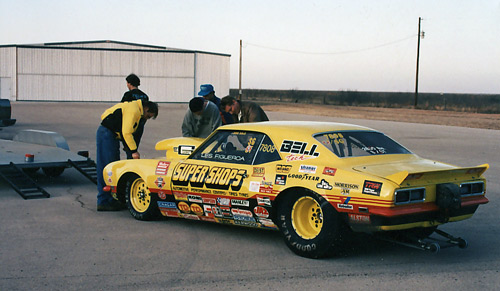 Another from the Mabee airstrip. My first professional car was previously ran by Les Figueroa in S/G and S/C. We ran it throughout the south in both classes as well, but some of my favorite memories come from that little runway.
So my dad and I always had a soft spot for the Mabees. They were just great people of like mind and a serious passion for all things fun. I had heard rumors that at one point the family went after the piston powered air-speed record in a scaled p51, but that was as far as it went… I thought… As it turns out, the Mabees had an earlier effort.
Just last night, I was sending out passwords and deleting biker posts when I got an email from Ronnie Low. Ronnie is my old crew chief and the current curator of the Jim Hall museum. Somehow or another he stumbled upon the Mabee Special.
In 1953, Guy and Joe decided they wanted to build the world's most complete sports car. A car that could compete with the fastest at the flats and most balanced on the road courses. They started with a light and shapely Victress body over a state-of-the-art chrome moly chassis. A Kurtis torsion bar suspension supported a Ford axle up front and a Halibrand quickie rear. For power, the Mabees looked to the legendary Ray Brown to build them a 353 cubed Hemi sporting a Harmon & Collins mag, Hilborn injection, and a Chet Herbert cam. Somehow a '39 top loader handled the heat.
The 1953 Bonneville Nationals was the first challenge. The car lived up to expectations and powered Joe Mabee into the 15th spot of the 200 mph club (203.105 mph to be exact). The world's fastest sports car was officially from Texas. Hot damn.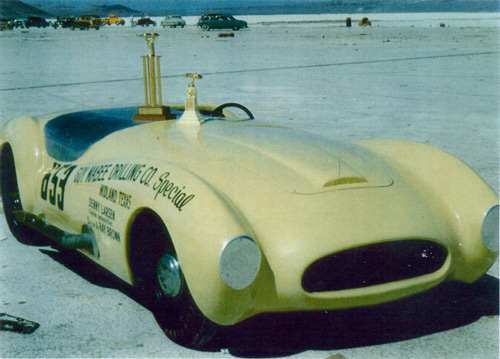 1953. The Mabee Special looked to be finely crafted for sure.
By 1954, the Mabees were ready to go road racing. A new 389 cubed Hemi was prepared by Ray, the top loader was replaced by a German ZF four-speed, and the Lincoln drums were replaced by Halibrand Indy double spot discs all around. The front suspension was also redone as the straight axle was dumped in favor of a complete Kurtis setup.
All they needed now was a driver. Back home in Midland, word began spreading about a young Texan wheeler by the name of Carroll Shelby. Joe made the call and the deal was set. Carroll would drive the Mabee Special into the record books.
The Mabee Special ready to go road racing in 1954... Note the subtle differences - Halibrand knock-offs replace the Ford wheels while the graceful land speed headers have been replaced by the uglier yet more business like shotgun jobs.
But it never happened. After a few testing sessions, Joe and Guy saw enough potential from Carroll to know that he deserved to be where road racing was at its best – Europe. Guy bought Carroll an Aston Martin and agreed to finance Carroll's endeavor overseas.
The rest is history. Carroll went on to dominate the circuits in Europe and used his experience with these cars along with the Mabee Special to build one of the most important sports cars in American history – the Cobra.
But the story doesn't end there for the Mabee Special. Guy and Joe kept the car and raced it successfully through the early 1950s on SCCA tracks throughout the south. In 1955, however, the Mabees decided to let her go. The second place finisher of the first Pan America road race, Tommy Deal, bought the car and raced it for a few years before selling it himself.
From there the car bounced around to a few different owners and showed up at a number of different races such as Ascarate Lake and Pike's Peak with a number of different drivers including Tommy Drisdale and even an Unser. Then, the car just vanished.
It wasn't until 1983 that Bruce Gross found the car in rural Mexico. After a long procurement process, Jim and Lea Ann Robinson found the car, purchased it, and completed a gorgeous restoration. (Editor's Note: You can read more about their efforts here.)
Restored back to its 200mph glory.
As I write this article and learn more about this car, I sit here becoming more and more amazed at how close I was to such legendary people and legendary things without ever knowing. It says a lot about the Mabees for sure, but it also says a lot about the reach of the hot rod world. It's everywhere and sometimes it just takes a few decades to realize it.
Keep looking fellas… This stuff is out there just waiting to be rediscovered.
49

Comments on the H.A.M.B.