The 2019 Lonestar Round Up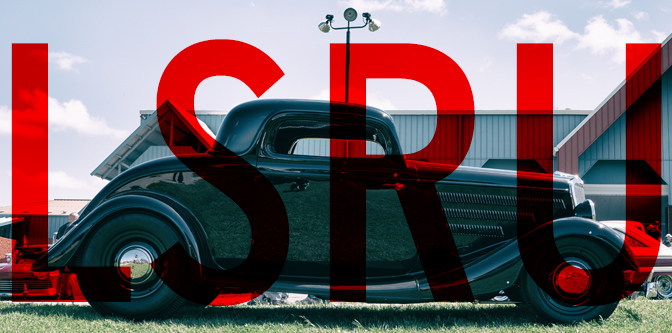 For the second year in a row, the second day of the Round Up was "ruined" by weather.
It all started for me on Thursday though… I went out to the fairgrounds early and got the Jalopy Journal booth set up, which was made easier this year by the latest edition to The Jalopy Journal road tour – a 1947 Silver Streak/Curtis Wright Clipper. Essentially, I just pulled it out there, unhooked it, and then hauled ass down 290 to Johnson City and the Rex Rods Open House.
At Rex Rods, I drank a few beers, talked a little shit, stared at a couple of projects, and then hopped in the shoebox and drove home for the night. Somewhere along the way, I ran into Juan from Deadend Magazine. That made me smile.
The next morning, I fired the shoebox up again and headed out to the show. It was the perfect Austin day – warm (but not hot) temps, clear skies, amazing live music, and more hot rods around than I could ever see in a single day. I gave it hell though and did more walking around on the grounds than I typically do. I was allowed to because my son, Miller, has come of age and has taken to running the booth with his own style and flair – something he did ALL damned day while I farted around. It was…. AMAZING.
Rather than hitting the streets and getting in trouble on Friday night, we decided to head to the house and watch old episodes of "Community" on Netflix. The plan was to get both Miller and my oldest daughter, Presley, rested up and ready to work the show on Saturday so that Marcie and I could do some more farting around. Well played until the weather showed…
I don't think I've seen wind and rain like what hit the Round Up on Saturday since I lived in Oklahoma. At one point, I was taking shelter in the trailer when I heard a loud bang. I looked out the window just in time to see one of those blue 55-gallon trash cans fly by. When it finally lost momentum and its wings, it was carried off by the river that was now flowing right down the middle of the fairgrounds.
Just after noon, the rain subsided… The wind never would.
Eventually, we gave up on manning the Jalopy Journal merch booth and just took shelter in our old camper. The decision came with a grim outlook on the rest of the day. Frankly, I was calling it a total loss. But then, a few pals dropped by to take shelter with us. And then, a few more. And even a few more after that. Before I knew it, we had ten folks hanging out, drinking beer and eating chips and salsa with us. And every time someone would leave to brave the wind, someone would soon step in to take their place – It was like a slowly revolving door full of pals and the trouble they brought with them.
Most years, we try to get out of the show by 6:00 so we can rest up for a night on the town. This year, we didn't leave until 8:30 or so. Austin had nothing to offer that wasn't in that little trailer of ours, so why rush?
***
Before this weekend, my favorite Round Up was probably the 2007 edition. That year, it rained so damned hard that the boys moved the whole show inside the fairground barn. Everyone that attended was dedicated and die hard – they had to be. And to me, that made the event extra special.
And that's what it was like this Saturday as well. You knew everyone on the grounds was serious about their business. We were all in it together and nothing was gonna stop us from having a good time. I gave The Jalopy Journal pick to Dudley Owens and his PERFECT full-fendered '34 Ford coupe, but I kind of feel like everyone that made it through deserved an award of some kind.
This was a really special one fellas…
***
Special Thanks:
Will, Steve, Brian, and the boys that make this thing happen. Family.
Presley and Miller Cochran for working so damned hard so that their mom and I could have a good time. I'm so proud of these kids…
Everyone that stopped by and kept us warm and happy in the old camper. Again, family.
See y'all next year.
Most (90%) of the photography by Miller Cochran.
32

Comments on the H.A.M.B.