Road Runners dry lake racing photo scrapbook 1947-49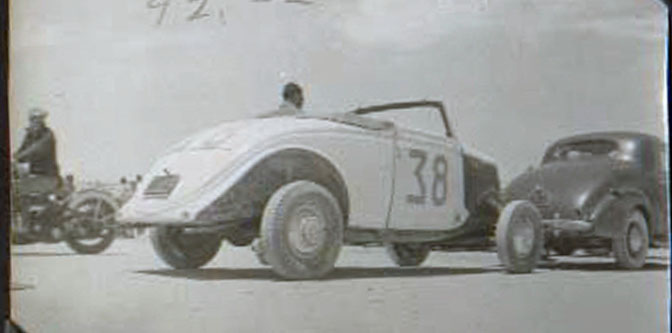 Ryan's exciting news about the Jack Mickelson roadster discovery and the subsequent pages from the 1947 SCTA El Mirage program reminds me realize how special it would be as an eyewitness  to those early post-war hot rod gatherings right after the War. For those of you not familiar with the Road Runners car club, they formed in 1937 along with six other clubs to create the Southern California Timing Association (SCTA), in order to organize and run speed trials on the dry lakes (El Mirage, Rosamond, Muroc, and Harpers). Early members read like a 'who's who' of hot rodding: Wally Parks (founding president and creator of their logo), Ak Miller (founding member and future president), Bill Burke, the Pierson Brothers, Ray Brown, Fred Carrillo, Art Chrisman, Dean Batchelor, Vic Edelbrock… and the club is still going strong today! This leads me to Jerry Cornelison, the current Road Runners Historian who gave me permission to share an early member's photographs. Jack Ratledge was a Road Runner starting in 1947 and took most of these pictures during the 1948 racing season, mainly at El Mirage and a few at Muroc as well. Enjoy!
If you want to know any more details about the images, check out other early member photos, or the Road Runners history, go here.
5

Comments on the H.A.M.B.