The Jack Mickelson Roadster: FOUND!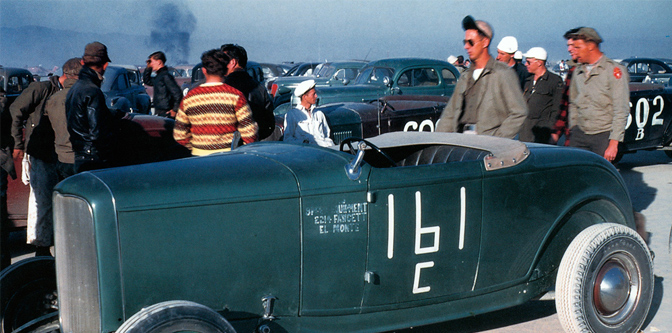 Back in 2014, I wrote a little feature on a car that I knew very little about – The Jack Mickelson Roadster. All I really had was a folder full of old images and some timing information from the SCTA. Just to refresh your memory, here's a quick gallery of the car:
Anyway, a few weeks back I got an email from Chris Julis who had a full owner's list of the roadster. Jack sold the car to Don Francisco who then sold the car to Gene Scott of Antique Auto Parts in Rosemead, CA. Once Gene owned the car, he did what guys did back then – modernized it by adding a four bar, boxing the rails, dropping in a small Chevy, etc…
Eventually, Gene ran out of steam and sold the car to Chris – who still owns it. Chris had plans to finish what Gene started until he learned of the history of the car. Ever since, he's been fighting the urge to tear it down and take it back to how it was in 1947 – green paint, flathead, and all. I'm cheering hard for him and you should be too.
In any case, it makes me happy to know the car is with a guy that knows what he has and appreciates the history. The Jack Mickelson roadster has a chance fellas…
Here it is as it sits today:
46

Comments on the H.A.M.B.