Register now to get rid of these ads!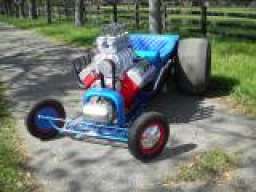 Occupation:

Entrepreneur, Master Modeler, Mechanical Engineer,
Loading...

Loading...

About

Occupation:

Entrepreneur, Master Modeler, Mechanical Engineer,

Custom sectioned 64 Chevy cut down.
51 Merk, 65 Cobra reproduction, 55 T Bird, 56 Ford F-100 pick up
23 T Bucket, Ferrari Testarossa, jag XJS, 56 Packard, Motorcycles with sidecars, Pitts S-1 Aerobatic airplane, Along with various other crazy stuff.

I could never belong to a club that would have me.

Automotive Design GMI. Saw Ed Roth's first T Bucket the Excalibur, later named Outlaw , and fell in love with it. At that point I new what I wanted to do with my life, and that was sculpture like Big Daddy was doing. I Built my first Hot Rod in 1960 a 32 Ford Pick Up with a 48 Merk engine, 39 box. Three foot bed. I was 15 at the time, and have always loved the old style Hot Rods. This so called Rat Rod shit is just that.
I invented my first product in 1968. The worlds first two piece valve cover, and over forty years later sculptured the Victory Crossbow Trike for Lehman trikes in 2008.
I've spent my life's work sculpturing bodies, building fiberglass molds and building fiberglass products along with many mechanical products ranging from medical products to airplanes.
I Manufactured my Sweet SL-110 motorcycle sidecars building 450 units, and growing my buisness to the third largest in the country.
Raced Hydroplanes for 15 years. Owned the Unlimited hydroplane Miss Bardahl, donating it to the Unlimited Gold Cup Hall of Fame and Museum in 1983.
I've been New England's fastest man on water for over thirty five years.
Honorary member of the Unlimited Gold Cup Hall of Fame and Museum.(1983)
Honorary member of the Race Boat Museum for hydroplanes.
Honorary member of the Paralyzed veterans of America. My most rewarding time spent building products for the disabled.
Six time member of Hydroplane raceboats 150 MPH club called the American Hydroplane Challenge. 1974,75,76,78,79,and 1980
I designed all the molds for the Sweet 55 T Bird Reproduction and had a factory building same with 25 employees in 1981. Sold out to Equity Automotive.
Raced Super Modified Race cars at Star Speedway 1982 Awarded New England Super Modified Racing's Rooky of the Year 1982.
Designed the Hydro Kart long before personal water crafts.
After almost twenty years of racing I started manufacturing some of the products that I designed and had had been using.
The Sweet protection system where coves that kept the dirt,sand and water out of engines when they where being stored, or worked on. I built the worlds first long block cover.
I've been building a collection of reproduction full size fiberglass engines for over twenty years.
Built Pitts S-1 Aerobatic airplanes.
In 2000 I sculptured for Watermark Kayaks. I designed boats for Perception, and Dagger lines, and worked with the US Olympic team along with the national Geographic discovery team headed to Tibet to run and film the wildest river in the world.
Built the words slowest AA/FD in 2002. It's a full size look alike of the diggers of the early 60's powered with hidden electric motor under the fiberglass Hemi. I was at the Goodguys show with it.
In 2006 I helped David Brush develop his World Class Gravity Sled so that he could break the World Speed record. You have to love this Hot Rod stuff. For those of us that have been cursed by it. What would our lives be like without them.

Interact

Signature

Ineptocracy will be our down fall.

Loading...

Loading...

Loading...
Register now to get rid of these ads!