Register now to get rid of these ads!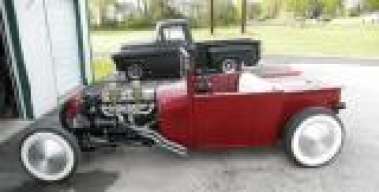 Last Activity:

Nov 28, 2014
Joined:

Sep 11, 2007
Posts:

54
Likes Received:

0
Trophy Points:
Location:

Occupation:

Railroad signalman
Loading...

Loading...

About

Location:

Occupation:

Railroad signalman

61 Dragmaster 331 FI Hemi front engine dragster, 70 Mark Williams FI 427 FED, 42 Ford COE custom truck, 57 chevy 1/2 ton pick up, 29 Model A Roadster PU, 150 sedan 55 chevy, 210 sedan 55 Chevy, 150 Sedan Delivery 55 chevy...Gasser.

None

At the dismay of my dad, I was bored with typical sports. I'd play sports to avoid boredom but when car races were on the TV I was glued to the set. The days of the front engine dragsters and early funny cars were some of my favorite times growing up. Once i became of age to drive I had a night manager job at a full service GULF station in Tucson, Arizona and from there anything with wheels I purchased was a performance based vehicle or a vehicle that was to become a performance based car. I'm also very seriously drawn to trucks too. Trucks are the coolest as they are not only transportation but an extension of the tool set to get other projects put together. I love the drag strip and the older the running field the happier I am. I have played with the computer based hop up stuff but that's way too sterile and non challenging to me. It can be maddening at times but commanding a machine to perform at break neck speeds by way of manual fuel and timing adjustments is to me the true image of man and machine sportsmanship. I've given back awards at car shows that were for the best unfinished hot rod explaining to the shocked master of ceremonies that it was in fact finished yet I'm still not afraid to go high gloss and chrome if it fits the personality of the project and more often times my budget.
Register now to get rid of these ads!