Register now to get rid of these ads!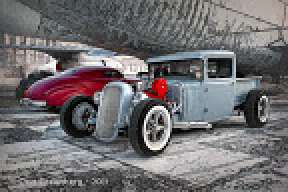 Location:

Occupation:

Building Code Consultant
Loading...

Loading...

About

Location:

Occupation:

Building Code Consultant

1931 Ford PU
1950 Chevy Fleetline
1962 Corvette

Lonely Knights - Colorado Springs

First hot rod build: 1931 Model A PU. Five years and counting since I am doing EVERYTHING myself. The idea is to create something that might have been built, shown and driven in the early 1960's. I have a number/date matching 1963 Corvette 340hp 327 for engine. This seems to be the preferred engine in most of the little book articles from the day. Polished 1962 fuelie unit that is on and running really sweet!
Roof is wacked 2.5" (my first chop), floor is channeled 4.5". The frame is Z'd front and back (my first frame work) using new '32 rails. Bed is bobbed about 9" to even up the wheel well. New valance fabbed for license plate and '48 Chevy blue dot tail lights. I have modified the rake 2 times and going back for a third. 1/2" will get it where it needs to be.

Has a Tremec 5 speed that I have configured with forward position top loader shifter to more represent an earlier transmission. I really want this to be a driver and prefer OD at 75mph with those 4.11 gears!

I have taught myself sheet metal skills as I formed the tranny and driveshaft cover and radiator fan shroud. Thanks to HAMB, plenty of good tips on metal fabrication using nontraditional means...like shielding gas bottles.

Scratch built fuel tank now complete. Actually it is the second version to correct some aesthetic issues. A third version is in the works that will be aluminum to replace this steel version. Better be the last!

Full height deuce grill with mild "track" lean to accomodate the radiator mounted behind the crossmember.

Steering column and steering wheel completely hand fabricated. Steering wheel is now on version 2 to have a more 60's feel. Swing pedals under the dash for brake and clutch. Traditional wiring with glass fuses and 1950's ignition and headlight switches.

Hell...if I would just use 1-800-streetrodparts I would have had this thing finished ages ago! Damn HAMB!

August 2010 update: Challenge by Roger Jetter (40studedude) and Johnnie Walker (fivewindowjohnnie) to get it running and up to Gunnison for an unveiling. Did it!

ONce the weather turns south and hopefully with at least 500 miles on the clock, I will tear it down for paint and interior. Hoping for a new unveiling in Salina in 2011.

Interact

Signature

[SIGPIC][/SIGPIC]

Lonely Knights CC - Nothern Colorado Chapter

1931 Ford Model A PU with Rochester injected 327

Loading...

Loading...

Loading...
Register now to get rid of these ads!