Another Model-A Coupe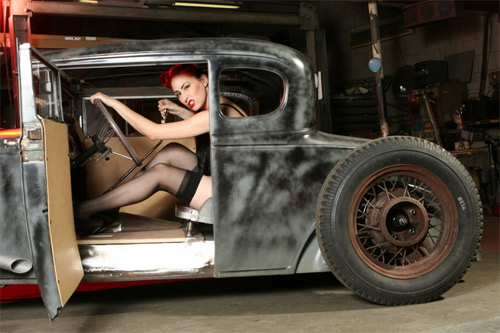 It seems like the H.A.M.B. spits out cool model-a coupes on a weekly basis, doesn't it? The latest is still in final construction, but I just discovered SloppySecond's project thread and had to post.
I'll be honest, after seeing the first mock-up photos I didn't think this was a car I would be too excited about. The car sits with a heavily hammered top, a deep channel, and a "backwards" stance and that gave me the impression that the build was headed in a direction that I am normally not too keen on. However, as Sloppy continued on with the build it became pretty damn obvious that this was going to be one sharp hot rod.
There are a ton of heavily chopped model-a coupes out there. Many of those are even channeled as much as this car… And many share the same "backwards" stance… But there just aren't many hammered model-a's around with the fit and finish it appears this car is destined to have.
There is a point to be had here… Historically, I just don't like super dramatic profiles like this car owns. I've always felt wheels belong in wheel wells, drivers should fit, and hot rods should have stances. This car breaks a lot of my own personal rules, but I still love it. Amazing what a really good craftsman can pull off…
24

Comments on the H.A.M.B.