Jay Ward
Jay Ward (Jive-Bomber) has been a buddy of mine for a long time and a H.A.M.B. member for even longer. I don't know if it's because of his innate "niceness" or his obvious passion for all things old and cool, but he's one of those people that you meet and just instantly like. He's got a great resume too – Billetproof founder, Asphalt Invitational founder, Motorama founder, Pixar genius… The list just goes on and on. As such, I thought an interview was in order.
TJJ: Old cars. Where did it all start for you?
Jay: It must have started in the womb, because I feel like I've had a fascination with cars (particularly those from the 30's – early 60's) my entire life. My Dad worked at the Corvette plant in St. Louis in the early 60's, drag raced, and later became a Cadillac dealer mechanic, and then went into sales and restoration. I'm sure he rubbed off on me a bit too.
TJJ: Obviously we are in traditional company, but what's the era of hot rodding and customizing that appeals to you the most?
Jay: I would have to say post war (1948 – 1953) as the ultimate hot rod inspiration. Mainly comprised of WWII vets with guts, ingenuity, and a general lack of fear. They just did it- Built cars and ran them fast. They made up the rules as they went along, and engineered military technology into tattered old cars. There was no pomp or big buck sponsorship- there was pride and an occasional dash plaque.
Customs as well- Look at any early Barris or Ayala Bros. customized car- (pre-55) it wasn't about tacking things on, it was about removing unnecessary elements and contouring for pure aesthetics. They actually influenced production automobile design years later. Amazing.
TJJ: Your '29… Give us the details.
Jay: I already owned a decent custom, but just couldn't leave well enough alone. Those darn Don Montgomery books had me deeply intoxicated with traditional hot rodding images– I looked at those blurry black and white photos till I had a gen-u-wine jalopy crafted in my head: An early 50's era Model A Roadster, on stock A rails. Then I picked up the Tardel/ Bishop book "How to Build a Traditional A Roadster"– That did it. Could I actually build one myself from scratch?
It started with a $1500 31 Ford A pick up project in 2000, then sold the cab and bought a Sport coupe body to chop into a roadster– it just didn't look right, so I sold that as a project car, and held out for what I really wanted. By the Summer of 2001, along came a 1929 Ford A Roadster completely stock with no drivetrain, interior or tires- everything else was there. The price was a whole $2500, so I couldn't resist. I disassembled the car down to the bare frame and welded for the first time in my life while boxing the rails- Real smart, eh?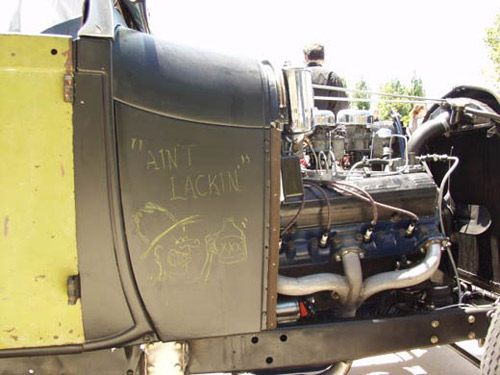 The welding skills improved slightly and I went on to motor mounts, cross members, and making the firewall out of half a wheelbarrow. I gave the body to a friend with a proper Tig set up to weld the patch panels, and concentrated on developing the rolling chassis. A running 1955 Cadillac 331 with Hydramatic for $500 came along, so a pricey flathead build would be avoided. The parts pile included a Ford 9″ rear (my one concession- wish I had a quick change now), and a seat from an old school bus– Soon came wheels and brakes from a 40 Ford, dash from a 1930 Buick, and a whole host of Tardel Ranch, swap meet and eBay finds. Friends on the H.A.M.B. (circa 2002) helped me with advice, inspiration and missing parts as well. The body came back from my buddies shop in the fall of 02, and we primed it in my garage with a make-shift spray booth consisting of plastic tarps and a wet floor! The whole car came out much too gray, so I ended up rattle-canning the body black and mated it to the rolling chassis that Winter. The motor was already in place and now featured a Edelbrock 3X2 with Stromberg 97's, hand bend headers and a warm cam.
The parts bills were knocked down with the sale of stock unused Model A items– The entire investment in the car was under $7,000 when all was tallied. Her maiden voyage was supposed to be Paso Robles 2003, but the bugs weren't worked out yet. She got on the road by that Fall, and has been rolling ever since. If all goes well, I'm planning on taking the roadster to Bonneville this August.
TJJ: What about your Merc?
Jay: The 29 roadster was now up and running, and by the Spring of 2004, my first custom, the 49 Lincoln Cosmopolitan wasn't driving much anymore. It felt so heavy and cumbersome after dashing about in the little Model A. I had seen pictures of a 1939 Mercury at the Peterson museum that blew me away (It would later be revealed as the Rulon McGregor Merc in Rodders Journal #21) and I began looking for a car like that, but in a coupe- Why? It would be far cheaper than a convertible, and the plan was to run a Carson top anyway. The stock 39/ 40 Mercury coupe had a funny turret style, faux hardtop roof that appeared as though it could be cut off, the windshield cut down and door stainless removed to make instant open car. The ol' Lincoln was up for sale, and the search was on.
I ran across at least four or five 1940 Mercury coupes, but no 39's anywhere. Every get fixated on one specific car? I wanted the smoother headlights and hood of the first year Merc, and I was determined to find one. 5 months later still no luck. A gentleman in central Texas called me and had heard about a 39 Mercury convertible for sale– It was about $10K more than my coupe budget, but it was priced pretty low for a clean, stock convertible. I made the stretch, borrowed some money and nabbed it. (by the time I got it home I was offered $15K more than I paid for it, so I knew it was a good deal!) It was a pretty straight little car with a working heater, tube radio, and 50's accessory turn signal switch.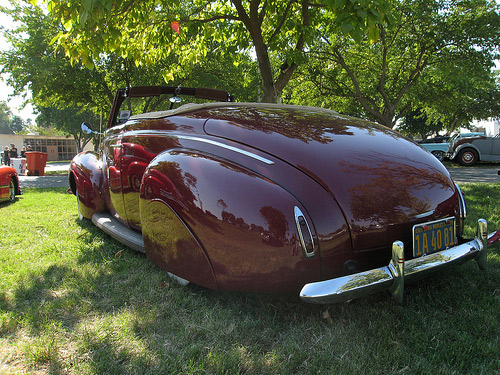 The customizing plans were kept fairly mild, keeping with the 40's Westergard aesthetic, and allowing the already beautiful ET Gregorie design to speak for its self. First came the 59AB flathead rebuild- 4″ crank, Isky cam, Mallory ignition, Edmunds 2X2 with Ford 94 carbs, and Red's headers. (Future motor upgrade is a set of Canadian aluminum heads later this year.)
The body was nosed & decked, emblems and rear plate bracket shaved, the side trim shortened, '41 Stude tails were stabbed in, and the fuel filler was moved to the trunk. I toyed with running the beautiful and popular DeSoto ribbed bumpers, but went for 1940 Zephyr pieces instead- Pricey, but rare enough to make them worth it. Hubcap choice was simple: Real Hollywood flippers that would mount on the stock 16″ "artillery" wheels, coupled with ribbed beauty rings. Since the back was so low and teardrop skirts now in place, no rear caps were needed!
Stance is what makes an era custom read the right way. To get the Merc with the proper amount of tail drag, the rear spring is reverse eye and de-arched, utilizing very long shackles and lengthened rods for the knee action shocks. The front end features a 4″ drop axle with a stock spring and tube shocks. The ride is very comfortable and smooth, despite the low profile.
Next modifications will be the interior (most likely tuck and roll), and if I get up the nerve, a 2.5″ chop and Carson top. I'm considering chopping the stock convertible mechanism, if it can gracefully fall off at the rear. I'm just not sure.
TJJ: Pixar. It's the one everyone wants to know about… How in the hell did you land that gig? What exactly do you do there?
Jay: Pure Fortune.
I graduated from art school in 93 with a degree in Illustration. I had been doing freelance art for a few years, and working at the local Harley dealer to pay the bills, but it was getting old. In 1998, an old roommate of mine from college had been sculpting clay at a film studio I had never heard of- Pixar Animation Studios. I had no idea how CG (computer generated) animation was made, but I was a huge fan of Tex Avery, Tom Oreb, and all the classic cartoons of the 40's and 50's. We met for lunch and he showed me around the place. Back then it was about 350 people total, working on two films. I was absolutely blown away– It looked like a college dorm in there. People flew by on scooters, snacks and drinks were everywhere, old film screenings, and peoples offices were whatever they wanted them to be.
It would mean a serious pay cut, and starting at the bottom as a PA (production assistant), but it was just too cool to pass up. Since I had a degree in art, and management experience, the position was a natural: Art Dept. PA (and later Coordinator) on a future feature film called "Monsters Inc."
I just finished managing the Art Department on "Ratatouille", our next feature coming out this Summer. I'm still helping out with various CARS projects, and am in the middle of moving onto managing on a future film project.
TJJ: I assume 'Cars' was a pretty big deal for you. Anyone that has been to an Apple store and played with a demo iPod knows your involvement. What did this project mean to you?
Jay: After "Monsters", my next assignment was CARS, a 4 year project that opened numerous doors for me, and eventually moved me up to a manager at the studio. Because of my knowledge and love of cars, I was a good fit for the show, and my automotive styling opinions and mechanical interests were utilized for everything from bias ply tires, to flathead firing orders. The director John Lasseter is a stickler for details, and he's not afraid to ask knowledgeable people for advice. I've also started a car show at Pixar called the Motorama, which, thanks in part to CARS contacts, has grown into a serious event- We get amazing vehicles brought in by the manufacturers every year just for us. Very cool.
TJJ: You helped start Billetproof, you run the Asphalt Invitational, you run the Pixar car show (Motorama), and now rumor has it you are getting involved with everyone's favorite car magazine – Hop Up. What don't ya do?
Jay: I'm really excited about this one. My buddy Marc D'Estout just came on as Art Director in the last issue, and called me to ask if I knew any experienced people to work at the magazine. I couldn't think of anyone off the top of my head, and then he asked, "What about you?"
It had never occurred to me that I could work on a magazine, let alone Hop Up, a holy grail of hot rod publications. After a great phone call with Mark Morton, I agreed to come on as Managing Editor for Hop Up #9, due early next year. My job is sort of traffic control for all the features and articles. Very cool stuff. Just to say that I've got to work on Hop Up means very much to me.
——————–
There ya have it – A renaissance man if I've ever met one and damn proud to call him a buddy…
42

Comments on the H.A.M.B.