The 2010 Lone Star Round Up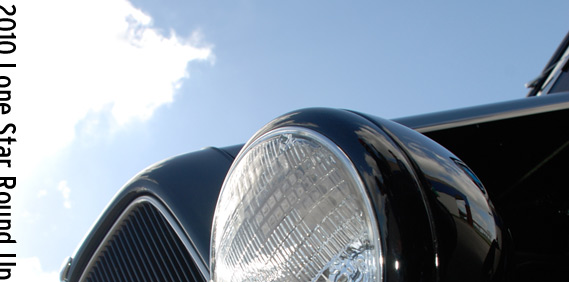 When i was a kid, my dad and I built a ton of models. Mostly, we focused on WWII aircraft. We'd spend hours putting them together. Every piece was painted perfectly, the decals were laid straight and true, and the finished model was always exactly how it should be. Then, I would see the same plane I had put together in a book or in a documentary on TV. I can't explain how or why, but the real thing never quite lived up to my expectations. Reality never seems to be as perfect as art.
As I grew older, I began to appreciate the little nuances that reality brings. Bullet holes, paint runs, and other imperfections are just ingredients to the recipe of soul. Race cars and traditional hot rods are great examples – signs of use and abuse are badges of honor. I get and cherish that.
Sometimes, however, the surprise of perfection can literally knock you on your ass. That's what happened to me at the 2010 Lone Star Round Up.
I was standing on "the hill" studying… enjoying… loving… the Fred Cain coupe when a black '32 5w rolled by in my peripheral. It's no secret – I have a considerable passion for black Fords and typically when one rolls by, I follow. I caught up with Angelo Cruz's car just a few minutes later.
It was at this point that I found myself (on my ass) photographing the model of perfection. The car is finished as beautifully and as detailed as any of the models pops and I had assembled back in my youth. It had all of the right parts in all of the right places. It had the stance nailed. It had a subtle attitude. And, it had soul. It was perfect.
The Angelo Cruz 32 5w was the winner of the 2010 LSRU Jalopy Journal pick. I don't think anyone was surprised.
Similarly, I don't think anyone was surprised about the output of the 2010 Lone Star Round Up. There is just something about this show that can't be elaborated on or written about in any kind of accuracy to dispel a doubter – if there ever was one. It's three days of absolute euphoria – incredible cars, music to die for, pals to live for, and much more fun than you can shake cedar stick at. It just is… and I've given up trying to explain how or why.
Five very good friends make it happen. First, there's El Jefe… Mr. Steve Wertheimer… Mr. Continental Club… Professor Hot Rod… He's family and the pal that I strain my neck for in an effort to look up to him. He's done so much for all of us and has done it in a way that makes most of us feel like we were somehow a part of it. I love him for his style, but mostly I love him for his substance.
Then there is Will Muntz. Another great friend for great reasons. He's the guy that makes the LSRU a party. You might not know him, but you have him to blame for the headache you had on Sunday morning.
There's also Brian (Beatnikontinental). Brian's the ultimate Texan. He's as mild mannered as they come – even when given the circumstance of running a 1300 car show. You know that feeling you get on Saturday when you realize your are amongst a ton of people, activity, and other shenanigans, but yet somehow you still feel at ease and relaxed? Laid back? That's because of Brian. No question.
Finally, there's Norm and Reggie running the swap meet. We've covered both gentlemen at length here at The Jalopy Journal. Put simply, Reggie is the best person I've ever met. And Norm? He's the guy we all want to be when we grow up. Put the two together and you end up with a swap meet that matches the LSRU in accessibility and enjoyability. That's hard to beat.
In any regard, I've rambled on long enough… You guys are here for the photos. Enjoy the coverage on the HAMB:
Much more to come, I'm sure… stay tuned in on the HAMB.
46

Comments on the H.A.M.B.