When did it start for you?
The love of old cars. I think for most of us its always been there, in our DNA since childhood, starting with toys and being cemented by our first car. But when did you actually appreciate OLD (i.e. pre-muscle) cars for the very first time? This picture was taken of my little brother and I on June 29th, 1981 in Riverside Missouri at my Dad's Ward Automotive used car lot. It was right across from the Riverside Drive-In and just down from the Red-X where I used to buy Hot Wheels on humid Summer days. That afternoon in June my dad picked up this rusty 1952 Olds 88 for something like $50 and brother & I went along to pick it up. I was nine years old, and I distinctly remember sitting on the front bench seat (three abreast) seeing the rocket emblems, that deco planet in the steering wheel, and all the chrome ribs lined up across the entire dash. I think that just might have been when it really hit- When I actually got excited about classic transportation design, attention to detail, and just driving in something from a simpler time that still got you down the road… In 1952 Style.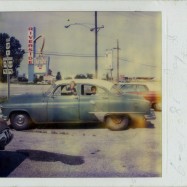 …………
155

Comments on the H.A.M.B.