Dad's Trophies part 2: National Custom Auto Show – St. Louis 1966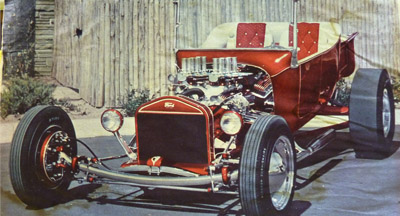 Another trophy gem from my Dad's collection was this 1966 award for his clean little bucket dubbed "The SaniTary T". Pops remembers that he bought the car already built, but added a Tommy Ivo-inspired top later on. The car featured a 6 carb Olds motor, steel T bed, red pearl paint and interior, and chrome bits galore. He took it on the highway one day and around 70 mph the front end got ALL OVER the road- I guess weighing under 1900 pounds, and having no front shocks didn't help much!
The National Custom Auto Show was hosted by Custom Car builder and show promoter Ray Farhner (Boot Hill Express, The Eclipse) in the 60's, at the now-demolished Kiel Auditorium in St. Louis.
………
11

Comments on the H.A.M.B.