Drag Racing: In Full Color!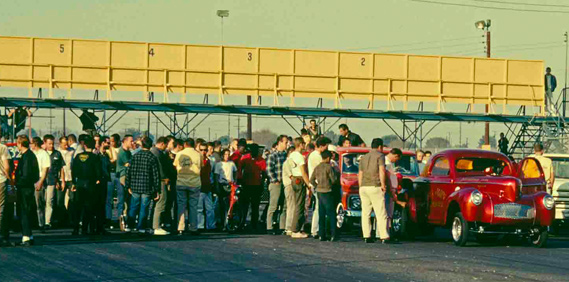 Steve Johnson, owner of GarageArt.com, has been a long time supporter of ours. If this site was a garage and all of our members were walking about bullshittin', wrenching, and hanging out, Steve would be the guy in the corner with his hat down low and a smirk on his face – quietly enjoying and very much supporting the scene. He's just a good guy. And I've always wanted to give him some well deserved props on The Jalopy Journal, but never really had the opportunity until now.
See, Steve is also buddies with Don Hale (a passionate drag racing historian) and has threatened for years to send over a selection of Don's famous photo collection. This week, he did just that along with a letter from Don himself. Enjoy it all.
Roy Robinson and I are graduates of the world famous "Art Center College of Design" located in Southern California. We both graduated with Bachelor of Professional Art degrees in advertising photography.
Roy got the job as "official" track photographer for Lion's Dragstrip from 1961-65. Roy and I shared an apartment while attending the four years at the Art Center and both of us became photographers at Lion's to help pay for college expenses.
The apartment, nick named "The Rosewood Social Club," saw many keggers with classmates Larry Wood (Hot Wheels senior designer), Ken Eberts (chair of Pebble Beach Auto Artists Guild), John "Waldo" Glaspey (renowned automotive illustrator), and Jon "The Voice of Drag Racing" in attendance.
Many of Roy and My photos appear in the recent DVD "Lion's: The Greatest Drag Strip" and we are both interviewed sharing many of our experiences while shooting at Lion's.
Our photos are also featured in recent issues of The Rodder's Journal and Drag Racer Magazine.
We both shot a lot of color at Lion's because the Art Center provided a color processor included with tuition. Consequently, we own the largest collection of color photographs from the period. Photographers of the time shot mostly black and white as the market for color had not arrived yet.
In 2006, Roy gifted his entire archive of Lion's photographs to myself so that the entire collection could be printed and shared with drag racing fans.
In the fall of 2008, I scanned the entire archive to high resolution digital files saving now over 40 years old for many years to come.
Other photographs represented are from Bakersfield, Fomoso dragstrip in '65, Indy in '67 and '68 (taken when I was on three day leave from Ft. Knox). Out of service in '69, I traveled to Dallas for the NHRA World Finals and then to Tulsa for the AHRA World Finals.
I hope you enjoy this small selection from the archives.
– Don Hale
43

Comments on the H.A.M.B.