The Shifters – Part 2
Part 1 of the Shifters article was an exploration of the club from my own point of view and a look into how they effected my growth into the traditional hot rod world. Even though the club is based over 1500 miles away in Southern California, there is no doubting the fact that they made an impression on kids all over the country. I was one of those kids.
For part 2, I thought it would be interesting to sit down with a few of the members and get their view point of where the club has been and where it is going. The players include the Idzardi Brothers (Marky and Axle – Purple People Eater owner and leader respectively), Anthony Cataneda (who once built a long board for me on Rob Fortier's porch),  and Kevan Sledge (hoarder of serious hot rod parts).
TJJ: Who started the Shifters?
Axle: The forming of the shifters was in my opinion a group effort. The original 7 of us were into the Rockabilly music scene and heavily into cars. Some of us started out with muscle cars, 55-57 Chevy's and Fords, and street racing. When we all met it seemed like we hung out every weekend talking cars and music over a few beers (ok, a lot of beers), and realized we all had the same interests, so it was decided after a while that we should form a car club.
A couple of original members in front of Jim Bouchard's '46 Ford in 1986.
The next step was coming up with a name. We threw around a bunch of names over the next few months, one of which was the Cam Jammers. It was a good name, but one night my brother Marky and I were driving out to Kevan's Orange County house from their home in Riverside and when I said "How about something to do with shifting -You know, like shifting  through the gears?"
Marky immediately said, "Ok, How bout SHIFTERS?"
It  had that old hot rod/dragstrip feel, but we weren't totally decided at first and dragged our feet for a while until Axle went ahead and did the art work, had plaques made, etc… then soon after, we found an embroidery lady who still owned a machine that did loop "Chain Stitching" and our red car coats were made.  It was all down hill from there!
TJJ: Why did you join the Shifters?
A Group of Shifters: We joined and helped form the Shifters because it just felt right. We had a good group of like minded guys with the same interests in cars, music, clothes, etc. which was very rare back then. There was only a handful of young guys in the So Cal area back in 1992 that were into the 50's lifestyle, but it was just one of those things that was just sort of meant to be. It all just sort of fell into place.
In the early 1990's, there were a few car clubs like the Sacred Karts, Black Top Bombers, and the Lonely Kings (all defunct) but what set us apart was the fact that we were an all Hot Rod club that consisted of younger greasers… No one else was doing that.
TJJ: When you guys first started building cars, what was the goal? Were you trying to build a "traditional" car or were you just going for cheap and cool looking?
Kevan: Back then NONE of us had any money, so cheap and cool looking was certainly on our minds, but we really were all about traditional cars. My hero's at the time were Norm Grabowski, Ed Iskenderian, and Tommy Ivo so I really wanted to build a t-roadster. But all the guys were into collecting old Hot Rod Mags and little pages from the 40's, 50's and 60's. When we first met we all were driving either 50's customs or jacked up early 60's style '55 chevy's so thats how we made friends, but then we realized that four of us also had traditional hot rod projects, 4 model A coupes, a Deuce, and my t-roadster. So individually we were all strictly into traditional cars from the beginning and learning more day by day.  We weren't following any trends because it wasn't the in thing like it is today, so we had to either read from the little pages or ask the ol timers.
TJJ: It's fashionable these days to look down at "Rat Rods." By your own admission, you guys invented the term. Did the definition of "rat rod" change over the years or did you guys?
Anthony: I think it was a little of both, but yes it definitely changed over the years. The term "rat rod" was just my way of trying to describe our cars to an outsider who had some knowledge of hot rods and motorcycles. Most people back then knew of "rat bikes" and i associated our cars more with them rather than the 1990's billet Street Rod scene of the time. I always thought of our cars as just unfinished traditional hot rods… which they were. So it wasn't a name we were really serious about, but it stuck after several magazine articles used the term when featuring our stuff. It was kind of cool at first because it gave the old guys a way of identifying us at car shows and swap meets, but after a while and as the scene grew, everything that wasn't finished or in primer became a "rat rod" by the media. It was lame and not something we really wanted to be associated with anymore.
Then a few years later came the real junk rods. Rolling piles of crap that are purposely built to look like shit – something we've never liked or understood. Things like 1950 fenderless trucks with suicide suspensions 50 feet in front of the grill and stock 305 Chevy engines with a two barrel carb and zoomie headers – stuff like that just make us scratch our heads. We think a lot of people just got the wrong idea somewhere and we hope most of these cars will just go away someday. Of course, they probably won't. I think it's good that they are looked down upon in some ways because they really don't belong with the rest of us who are working hard to to build quality traditional cars. Obviously, people have a right to build what ever they want but it's just gotten out of hand.
A real "rat rod" to us is a raw, unfinished, traditional hot rod with all the right ingredients! Now in today's world we have magazines (will go unamed)  catering to nonsense cars, switchblades, iron crosses, women with tattoo's on their foreheads, diesel truck big rig wheels & tires, and they think its old school?  We just don't get it.  Hate to say it but the word "rat rod" is ruined now and should probably go away.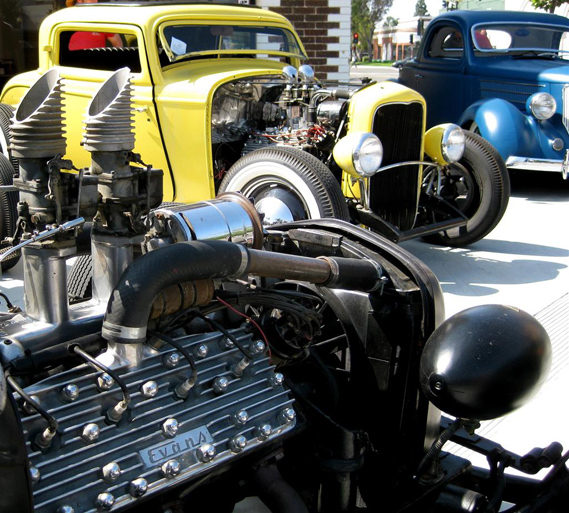 TJJ: From Texas, it seemed like the club kind of went on the down and low for a few years about three or four years ago. You had the Emily Dutton film, you had Viva, you had some fellas (Anthony, Axle, and Marky) building a car a year it seemed, and then things just kind of slowed down…. The club didn't seem as public. Is that really the case?
Axle: Yeah, we sort of got burn't out for a while. We gave it 200% for ten years straight then somewhere around 2002-2003 things just changed. I don't know if the scene got too big or lame, but a lot of the guys in the club lost interest and just started doing thier own thing. Also, there were guys getting married, buying houses, making investments, working on their businesses, etc… and I think we just mentally needed a short break for a while.
TJJ: It also seems like the quality of the car in the club has really improved recently. Cars are getting paint, detail work, etc… As I understand it, there might have even been a club meeting about improving quality. What exactly happened?
Axle: Yeah… in the last few years there has been a big push by some of the guys in the club to get things going again with a big emphasis on quality. Not that all the cars need to be painted, shiny, and chromed out, but just clean looking and reliable. The days of parts coming loose on the freeway and being broke down on the side of the road 5 times before getting to a show are over. Which is tough, because most of us refuse to run new parts or small block chevy's in our cars. Flatheads, Caddy's, Oldsmobiles, Pontiacs,  and Lincoln engines are in 90% of our cars, and with all those old parts it leaves a lot to go wrong!
Kevan's Merc is hard to beat... Well built, clean, but still houses tons of personality.
TJJ: So these days, what's the goal when your typical member decides to build a car – traditional hot rod or custom?
Marky: Well, I guess it all starts with the right car and parts. If we get lucky and stumble onto something great, then the building process begins sometimes immediately. Say if we come across a roadster body… Obviously, the next step is locating a frame and the phone calls start. We find most of our parts by word of mouth rather than swapmeets anymore. Most of the guys will lend a hand in one way or another and make it happen, but I guess the goal is just to build a totally traditional style car… and adding our own personal touches to make it unique so it can stand out in a crowd.
Hudson Joe's roadster was one of my favorite cars at the GNRS this year. He's a new addition to the Shifters.
TJJ: Does the club have certain requirements that must be met when a car is being built? What are the pressures as a Shifter?
Kevan: Yes, of course there are some requirements, but after all these years most of the guys know what should and shouldn't be done when building a car. If someone is a little off track then we might make a subtle suggestion to help make it better, but usually everyone gets it and we know the car will turn out right when finished. I think the only pressure for the guys now would be just to keep your car looking good and on the road. If someone is slacking, then the guys have a way putting some pressure on just to get things back on track.
Squeak Bell's '40 coupe... My personal favorite Shifter's car.
TJJ: Most clubs seem to "staff" themselves according to skill sets. Meaning, you get a guy that's good with motors, one for bodywork, fabrication, etc… Is that true of the Shifters? If so, what area does the shifters excel in? Where do you guys lack?
Kevan: This is a great question… I am good with metal, body work, and fabricating, but just ok with everything else. Marky, Hudson Joe, and Anthony can do almost anything. Axle is good with paint, bodywork, and has a great sense of detail. Squeak is excellent at tig welding, building frames, etc…  Jeff (Phlegm) and Fat Bastard Rob are good at building engines. Billy & Vic have their own qualities and it makes this entire package unique. I'm not sure exactly what we excel in the most, but I know between us we can do just about anything.
The Purple People Eater flanked by Shifter coupes.
One thing that certainly gets our attention is a well built and good sounding engine. Every one of us are die hard motorheads. I guess thats why we frequent Drag Races year round !  If there's one other thing about us, its the fact that we've never had to rely on anyone else to build our cars for us and we're proud of that. But, we have also had a lot of great friends who have lended a hand over the years too. I guess where we've lacked over the years on some of our cars is  finish and detail, but all thats changing now.
TJJ: What's next? Where do you think the club will go as it's membership ages and matures?
Axle: I think the future of the club will be to keep moving up. I know the quality of cars will be getting better and better and we have a few new cars in the works that hopefully everyone will dig!  We also want to really concentrate more on drag racing. We currently have 2 Drag cars (the PPE and Squeaks 32 sedan) and will be working on a third soon. Hopefully we'll make it out to the HAMB drags one of these days!  There is serious talk about that, but I think the main thing for us in the future is to just keep doing what we love with building cars, staying close as friends and brothers, and having fun while were at it!
Hot Rods to Hell!  Shifters So. Cal.
…………….
EDIT: After this article ran, I got a pretty impressive note from Axle. I thought it would be a nice addition to the article…
Question, don't know if its too late or not but if its possible, could you remove the small part where it says "Axle – leader respectively". I am always looked at as the president or leader of the club by outsiders, and although i am for the most part, the spokesperson , we are all equal and there are no positions held within the club. It just sort of gets to a few of the members when they read or hear that i am the head honcho of the Shifters. Hope you understand and most importantly, not offended by my request. Take care Amigo… Axle.
89

Comments on the H.A.M.B.