Jack Carroll's '32 Coupe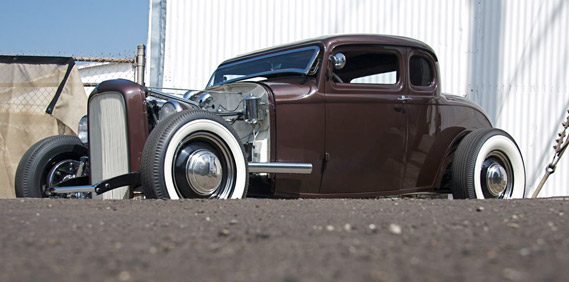 I've known Chris Casny for a little over a year now. We met at a little shindig in Austin last year and have been pals ever since. He's just one of those guys you can instantly get along with. And, of course, he's got one bitchin' model-a coupe… So, we relate to each other pretty well.
That in mind, Chris has a buddy with a '32 coupe that he was sure I would appreciate. It's simple. It's subtle. It's a hot rod that fits my personal sensibilities perfectly. It's my kind of car and Chris must have realized that. He took some great photos, gathered some info from the owner, and sent it all over… Here are the basics:
The car was built by Jack Carroll with the help of Lynn Bird and the honorable Mr. Verne Hammond. Jack spent about 2 years worth of nights and Saturdays to get the car on the road and admits he's still not quite finished. We'd argue, but what's the point?
In any case, Jack started with a nice '32 chassis that Lynn Bird helped him set up. An early 40's flathead is mounted up front and powers through a '39 trans with Zephyr gears back to a '36 rear. Brakes from 1940 handle the stops. Once all of that was buttoned up and functional, Jack tackled the body work almost entirely by himself. The little coupe features a proportion considerate 5″ chop and a 6″ channel. The metallic brown paint is just a chocolate coating – isn't it?
And like we said, the car continues to be a work in progress. Recently, Jack added the chrome rear and an Auburn dash. It's these kind of details that, in my opinion, really set the car apart. It's just an intelligent and thought provoking build. And one that Jack claims would have never been possible without the help from his good pal – Verne Hammond. Hell, we love that dude too…
Enjoy the fabulous photos from Chris:
72

Comments on the H.A.M.B.