Suburban Sighting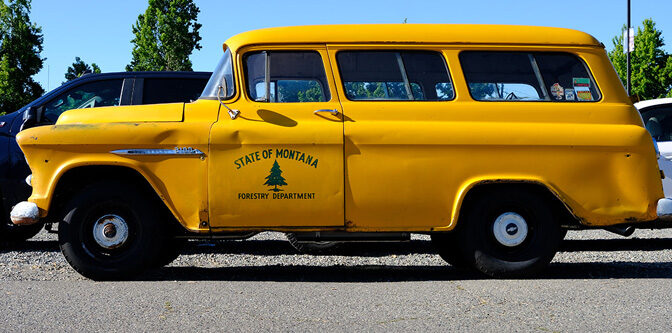 Walking out to my car through the gravel lot, I was tired. Not a bad tired, but more of a low-level exhaustion that comes from spending a very full weekend working out in the hot sun. I eyed the 7-Eleven down the street. "Won't be long now," I said to myself, "Won't be long." Visions of ice-cold bottled water and multi-flavor Slurpees danced in my head.
Work was over for the day, and I was ready to kick back and relax. Yet, as I approached my rental car, I noticed something different in the front row. Could it be? Yes! A 1957 Chevy Suburban. I've always admired these, and this one checked all the right boxes.
By the looks of things, this particular 3100 had always been a workhorse. I liked that it was 2WD, essentially stock and very well worn. Although the State of Montana markings appear to be later additions, the rest of the truck has an undeniably authentic feel. The '57 Montana plate, "Forest Warden" front plate, and vintage decals help complete the picture.
As I studied the truck, I couldn't help but think back to a similar-ish Suburban I spotted back in Louisville a few years back. They were the same in spirit, but the '56 had a more custom flavor. Both are neat in their own ways.
Believe it or not, I'm not someone who dreams of owning dozens of vehicles. That being said, an old Suburban ranks high on my list. What could be better than loading it up with friends, family, car parts or estate sale treasures? That's my dream, and I'm sticking to it. Anyone have one for sale?
—Joey Ukrop
22

Comments on the H.A.M.B.