The Bombshell From Flint…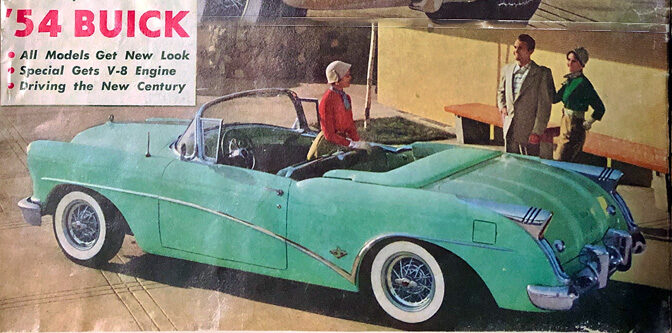 By the early 1950s the 'Big Three' were really hitting their design stride, with fresh new looks coming out of Detroit every year. Under the direction of Harley Earl, General Motors in particular was pushing car styling and technical innovation farther into 'factory custom' territory, starting with the 1953 Chevrolet Corvette, as well as the Cadillac Eldorado, Oldsmobile Fiesta, and Buick Skylark. Earl would pit the GM brands against each other, competing to see who could come up with the best looking line. Inspired by the Motorama dream cars, these flagship models featured panoramic windshields, lowered rooflines, and splashy trim to set the all-new models apart. But the boldest was yet to come in 1954, as Buick introduced the newly redesigned (again) Skylark that pushed towards what I would describe as one of America's most radical factory custom of all time.  The wild styling shared some design cues with the Wildcat II concept car, featuring a fine toothed grille, chrome tailfins and exaggerated rear wheel cutouts with contrasting paint that mimicked the sloping rear fenders. Riding on the shorter, lighter Century chassis and featuring a higher horsepower 'Nailhead' V-8, the Skylark was a real road burner too. Unfortunately all this Buick style & power came at price higher than most Cadillac models (nearly $4500!), and a mere 836 were sold.
25

Comments on the H.A.M.B.