The 674 mph Plymouth Coupe
The February 1962 Hot Rod magazine has one of the most unusual stories you could imagine: A beat up Plymouth coupe launched off the deck of an aircraft carrier on the high seas somewhere around Catalina Island in 1960. The USS Bon Homme Richard (CV-31), or "Bonne Dick" for short, was equipped with a 600 pound steam catapult able to thrust her McDonnell F3H Demon aircraft well and clear of the deck for take-off, so just imagine what violence the mechanism could do to a 3,000 pound tin can on wheels. By the amount of smoke coming off by the tires in the middle photo, it's obvious the poor '50 Plymouth couldn't spin the axles fast enough to even rotate off the deck at that insane rate of acceleration. Wonder how in the world they came up with this stunt? I'll let you read the rest below: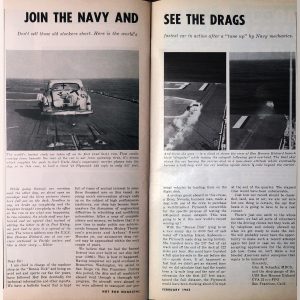 Note: The author describes the car as a 1949 Plymouth 'convertible', but it's obviously a coupe, and by the looks of the taillights, I also believe that it's a 1950 model. Chime in Mopar men, if I am wrong on this one.
15

Comments on the H.A.M.B.