Optimism & Old Cars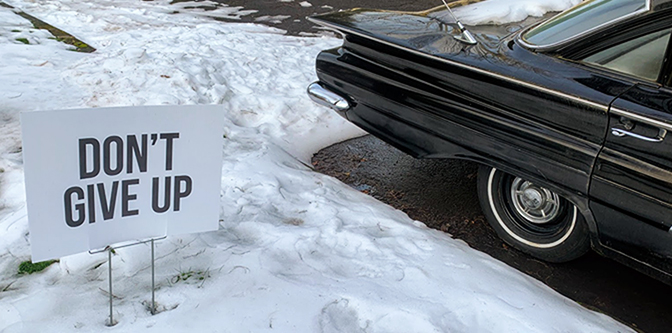 Times are tough. Between the global pandemic, winter weather and waves of uncertainty pelting us from all sides, it seems as if the world can't catch a break these days. When life gets overwhelming, one of my favorite things to do is one of the simplest: I take a walk.
This week, I'm up in Portland, Oregon, which—like much of the rest of the country—is in full winter mode. On Wednesday afternoon, I was out walking Stella the Dog through the historic Laurelhurst neighborhood. The combination of the melting snow and golden sunlight reminded me of early spring days back home in Michigan. As we walked, my mind wandered. I thought about big things and little things. I looked at the greenery poking through the snow and the streets lined with beautiful craftsmen homes. I studied them, noting their details. We kept moving, half-trying to get lost somewhere so close yet so very far from home.
Despite my daydreaming, I kept a close eye on Stella. She stopped at the right crosswalks and made plenty of new friends. Towards the end of our walk, she made a left turn onto a street that I'd never seen before. Just up the sidewalk, a yard sign caught my attention. "DON'T GIVE UP," it said. I snapped a quick picture. Then I looked up and couldn't help but smile.
There, right in front of us, sat a 1960 Chevy Biscayne. Snow surrounded it on all sides, the scene was perfectly set. I love all old cars, but there was something about this four-door that was particularly striking. Although it's not a hot rod or custom, there's no denying the appeal of a black-on-black base model with narrow whitewalls and dog dish hubcaps—especially out in the wild.
Judging by the Doan Calhoun dealer plaque and vintage AAA Keystone Auto Club decal, it appears as if this machine spent part of its life in Pennsylvania. The Pacific Wonderland tags are current, and the stack of registration stickers is tall; I'd like to think this car gets driven regularly. That makes me happy.
As we prepared to make our way home for dinner, I caught a glimpse of the back side of the aforementioned sign. It said: "WE'RE ALL IN THIS TOGETHER." We sure are.
—Joey Ukrop
31

Comments on the H.A.M.B.