Moonburst: Lost & Found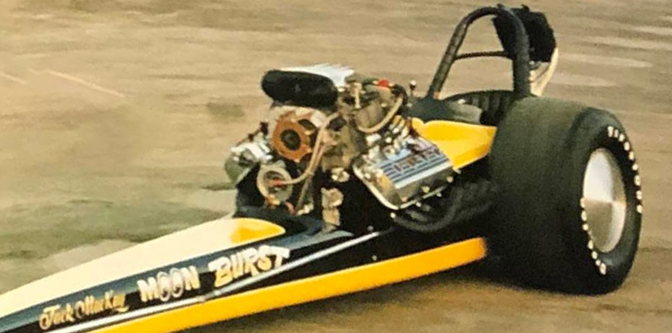 When it comes to hot rods, customs and racecars, there's something undeniably exciting about the hunt. When we see an old barn, an overgrown field or a mysterious shape beneath a cover, our hearts start to race. Could it be an old hot rod tucked away? A long-forgotten custom? Or how about a famous racecar that has been put out to pasture. The best part is, for us anyways, that these machines can be saved. We have the tools, the knowledge and the network to do just that. It's all a matter of getting them in the right hands.
Today's feature takes a closer look at "Moonburst," an AA/Fuel Dragster campaigned by Jack MacKay in the late-'60s. There's some speculation over how much of a role the late Dean Moon played in the project, but his famous Mooneyes appeared on the side of the car and trailer. We do know that the slingshot sported a Woody Gilmore chassis, Tom Hanna body and a blown 392 Hemi. The combination was good for quarter mile runs in the mid-six second range at 226mph. By the early-'70s, the competitive cars were going rear-engined, so the dragster was sold. The video illuminates what happens in the next chapter…
Now this is somewhat of a spoiler alert. So, if you have the time, I suggest you watch the video first. I'll admit it's a little strange and may require some fast-forwarding. Anyways, when I first saw this video, I was expecting the car to be complete, assembled and still wearing its black and yellow livery. Why? I'm not sure. Maybe it's because when we hear those buzz words—barn find—we imagine machines that well, you know, ran when parked. More often than not, that's not the case, especially for racecars. Yet when I heard the $90,000 price tag for both the car and the Mr. Ed trailer, I was hoping to see something a little more substantial. As you can see, that wasn't how it played out.
Either way, it was neat to watch a piece of drag racing history get unearthed after sitting in the West Texas dust for decades. Who knows, maybe we'll see it cackling in Bakersfield or Bowling Green in the next few years here. I can only hope so.
—Joey Ukrop
 Video by Jerry Heasley, opening photo from the Dean Moon collection
41

Comments on the H.A.M.B.