A Moment in Our Time
Last month, Nat Meier set out to photograph the house where she grew up. She took the day off work, collected her things and caught a train from San Francisco to the East Bay city of San Leandro. With her Canon film camera in hand, she walked the narrow streets soaking up not only the golden sunlight, but also the details of her surroundings. Through her lens, she saw rows of houses with their miniature lawns, blossoming orange trees, and neatly tiled roofs. There were empty sidewalks, driveways shaded by eucalyptus leaves, and cars resting beneath silver covers. Every street set the scene for her next shot.
When she finally reached her old neighborhood, she stumbled upon something unexpected: a 1930 Model A roadster sitting out in front of a house from the same era. "I didn't really know what it was at first," Nat says. "The light was right and, against the pale blue of the house, it was the perfect pop of color." She moved into position, framed the shot and took a single photo. She knew it was going to be her favorite of the roll.
Expeditions like this are nothing new to Nat, a photographer and social media manager by trade. She's 27 years old and even though she doesn't own a car, she's quick to point out that she's a "car appreciator." Whenever she's shooting film—which is often—she gravitates towards automobiles and architecture. "Every car has a story," she says. "They're all very purposeful."
The idea of purpose came up several times in our conversation. In addition to using it to describe the soul of these old machines, she mentioned that she felt as if something bigger was happening that day in San Leandro. "It felt like I was supposed to be shooting in that neighborhood," she says. "It felt deserted—on purpose—for me."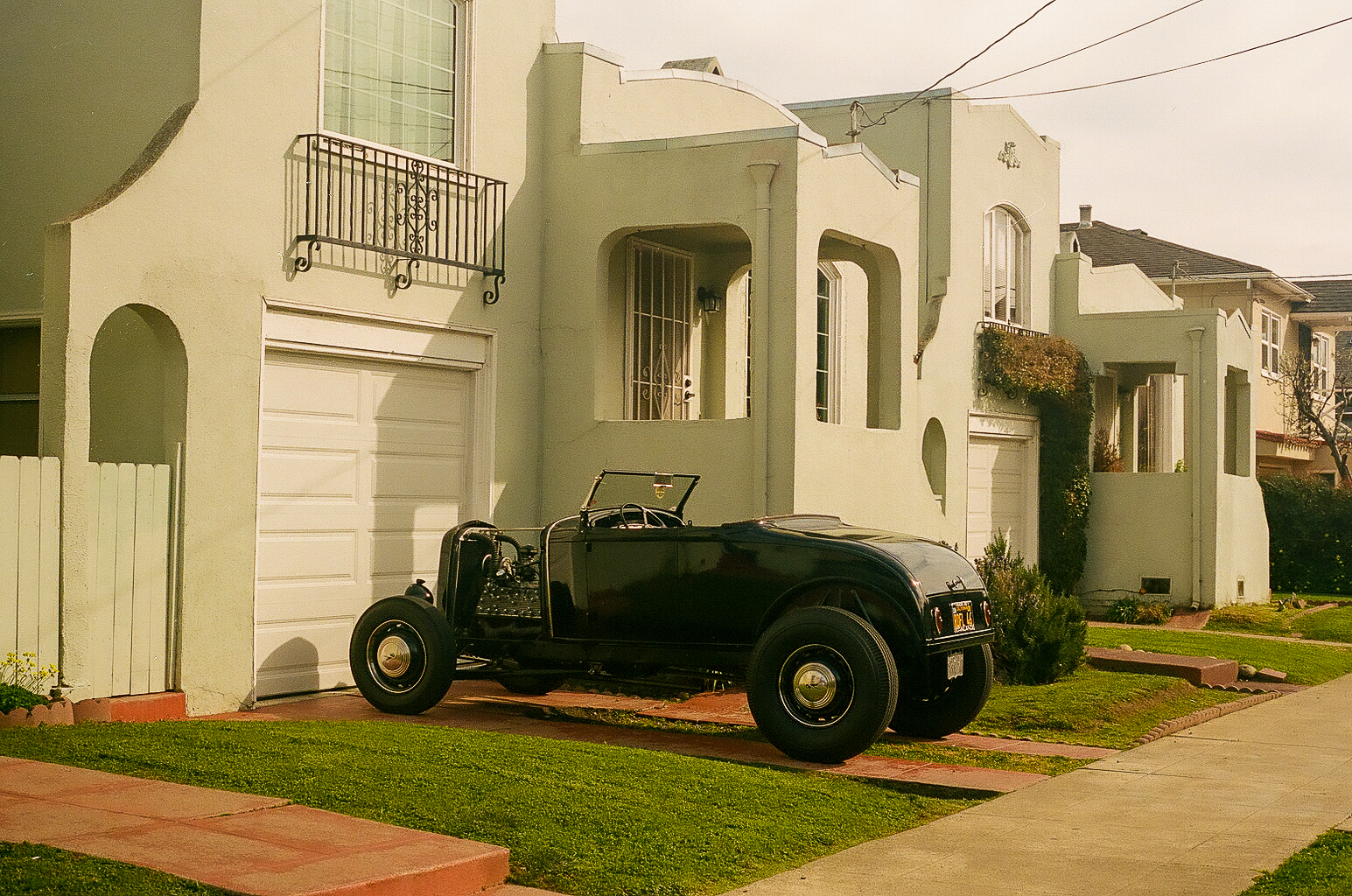 Nat's roadster photo is completely devoid of distraction. It allows us to focus on the subjects at hand. "It's almost eerie," she says, "because you can't tell what time period it's in. It came out heavily golden. I got lucky because there was nothing on the lawn and nobody on the sidewalk." Little did anyone know that less than two weeks later, the streets would be empty for a completely different reason.
Internet, Instagram & Inspiration
COVID-19 and the subsequent shelter-in-place order have changed our world. Everyone is dealing with the ups and downs in their own ways. In between the phone calls, garage sessions, Tiger King episodes and home cooking experiments, I've been on the hunt for inspiration. By that I mean scrolling through Instagram more than I probably should be. Call it research. Or don't.
Earlier this week, I stumbled upon the photo in question and had to double-take. "Oh, that's an old Bay Area shot that I've never seen," I said. "I wonder if it has been colorized?" Looking closer, my mind skipped back to that classic picture of Fred Zaft's channeled Deuce five-window parked in San Francisco's Sunset District in the early-'50s. The coupe, which was well built for its day, appeared in Hot Rod Magazine twice and landed a one-pager in Fawcett Book #189: Best Hot Rods in 1953. As much as I like the coupe, I've always appreciated the Streamline Moderne house with its asymmetric styling and porthole garage windows in the background.
Although similar, I quickly realized that Nat's photo had nothing to do with Zaft's coupe or San Francisco. Nonetheless, I knew that it was an image that the car world needed to see. And, with a little bit of digging, I was certain that we could find whoever was responsible for one of the best hot rod/house combinations I have ever seen.
A Hot Rod Fit for a Historic Home
The traditional hot rod and custom car community is tight knit, especially in the digital age. With Nat's blessing, I reposted her picture on The Rodder's Journal Instagram account. Minutes passed. Then, the next time I picked up my phone, someone tagged the owner. His response? "Trippy."
It wasn't long before I was on the line with Ed Corvello, a San Leandro native who built the roadster with his wife, Nicole. Remember when Nat said these cars are purposeful? For Ed, the plan was to show Nicole the ropes of hot rod construction and, when they were finished, teach her how to drive a manual transmission. "She did half the work," Ed says. "She helped quite a bit. She put the motor in and the transmission in by herself."
Ed is 50 years old and a hot rodder in every sense of the word. An active member of the Road Devils car club, his past project was a banger-powered Model A phaeton that he put together in his one-car garage over a two-year span. Dubbed the "Jingle Town Special," he racked up plenty of miles behind the wheel and even competed out on the sands of Pismo at The Race of Gentlemen. Then, in 2017, he sold the car so he could dive into his next hot rod.
When his friends heard that he and Nicole were building another car, they began pitching in pieces of the puzzle. Starting with a Model A frame that Ed had for years, he brought down the nose with a four-inch dropped axle and split wishbones. There's no kick-up in the rear, which contributes to the late-'40s/early-'50s stance. When it came to the powerplant, a flathead was a natural choice. "The engine is a '50 Ford flathead out of a truck," he says. "A friend gave me that too." Speed equipment includes Weiand heads, an Edmunds intake and a pair of Strombergs. The whole setup is linked to a '39 Ford transmission and a Model A rearend.
Midway through the project, the Corvellos moved to their current home in San Leandro. That's the one in Nat's picture. According to Ed's research, it was built in 1928 along with three others, all in a row. With the exception of a new security gate on the front door, he and Nicole have worked to maintain its original charm.
Once they settled in, the couple finished the roadster in their new-to-them one-car garage. Initially painted flat purple during the shakedown stage, the A was reborn with its mile-deep black livery in early 2020. Ed and Nicole planned to drive the car to the L.A. Roadster Show this summer, but COVID-19 has put that on hold. That's okay, because it gives them plenty of time to dial it in for when the world returns to normal.
Connecting the Dots
Every photo tells a story, and every hot rod does too. I will admit that going into this, I had no idea how—or if—the pieces would come together. Luckily, Nat and Ed were both as excited as I was to bring this tale full circle. When you take a step back, the whole thing is pretty serendipitous.
For a photo without any people in it, Nat's image says a lot. And, now that I think of it, Ed and Nicole's roadster does too. It just goes to show that even when the streets are empty and nobody's around, there are still plenty of opportunities to find answers to questions you didn't even know you had.
Nat captured a moment in our time on that sunny spring day in San Leandro. She knew then that it was purposeful, and she was absolutely right.
—Joey Ukrop
 Photography by Nat Meier. You can check out more of her work on her website here and Instagram here. 
48

Comments on the H.A.M.B.