A Modified '32 Roadster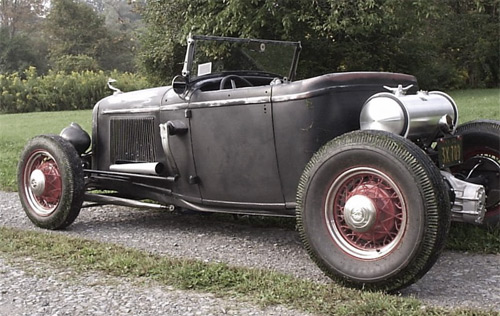 I was present during one of those glorious moments. The barn doors open, rays of sunlight break through the dust, chrome shines so brightly that not even the decades of dirt and grime can suppress the glimmer… It is very much like witnessing some kind of a strange birth. On this occasion I was outside Chickasha, Oklahoma with a buddy that had just found himself an unmolested 1932 Ford roadster. We must have stared at that car for hours and rubbed every inch of it with our bare hands. It was as if we had just found the holy grail.
And for the most part, '32 Ford roadsters are the holy grail for vintage hot rodders. The thought of even channeling one leaves a lot of purists reaching for their mouths and holding their stomachs. New user Doodlrodz looked at it differently. He had a complete, mocked-up, and original '32 roadster staring him in the eyes while he held a sawzall. His options were simple:
1. Leave the car original and never have the cash to finish the roadster to his own standards.
2. Slaughter the poor unsuspecting legend, keep the cowl and the doors, and sell everything else to fund a modified project.
He chose option two and I'm amazed to say that I'm glad he did. In all reality, it is staggering to think of the value lost here, but you can't argue with the result – a salt inspired roadster sporting the wonderfully contrasting styles of a modified race car with the refined lines of a '32 Ford. The shortened body and exposed quick change speak to the car's purpose while the sculpted front-end formed by the famous '32 shell shows the car's heritage. And just to further piss off the purists, our man channeled the body just enough – that '32 reveal is still visible on the frame rails.
The rest of the car is typical late 40's hot rod – split bones, Schroeder steering, Culver quickie, 8ba, '39 tranny, etc… It takes guts to tear into a '32 roadster, but it takes brains to know when to follow tradition. Doodlrodz has done both and I like the way he puts it:
"Oddly enough, I have no regrets, I love the way it came out, and I figure if the only reason you're doing it is to see how much money you can make off of it, you're doin' it for the wrong reason."