Hot Rodding in an Unlikely Place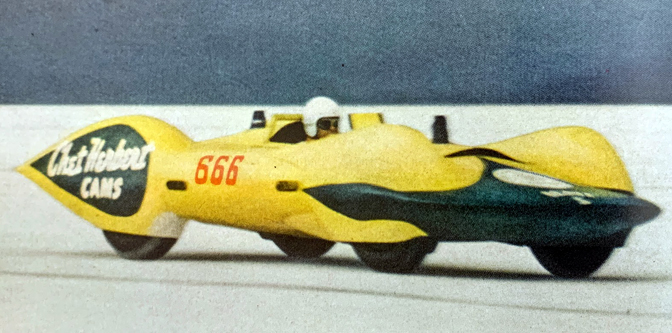 "Turn here, turn here!" she signaled as we approached an intersection in San Francisco's Sunset district. "What?" I asked, slightly confused. She directed my attention to a searing orange poster board stapled to a telephone pole on the right side of the street. It said "GARAGE SALE" in big letters. I smiled. There was no doubt about it—we were going.
For the past year and change, my girlfriend Lindsey and I have made it a weekend tradition to swing by garage and estate sales whenever possible. It's something that we've both been doing since we were kids, and we've learned that you never know what you're going to find.
On this sunny Saturday we weren't really looking for anything major. Nonetheless, we got out of the car and strolled up to the sale. After greeting the folks in charge, Lindsey gravitated towards some Baroquian chairs near the curb while I dug into a tattered cardboard box of tools. I grabbed a handful of old wrenches and an even older set of pliers that were manufactured in 1892. Lindsey scooped up a heavy-duty Craftsman staple gun and a few other small items.
As we went to finalize our purchase, the woman handling the transactions hit us with a question: "How did you find us?" We informed her that the fluorescent orange poster board did the trick. She and another gentleman (presumably her brother?) nodded, and then said "Hey, you're young—can you help us post the address of this sale online?"
"Of course," we said. With a little bit of brainstorming and a momentary flash of creative writing, we shared their sale on the Nextdoor app. As I was paying for our pile of treasure, I spotted a binder full of musty magazines sitting on a table. We began leafing through them, only to discover that they were all copies of Sports Illustrated from 1954.
"How much for these?" I asked.
"Oh, you can just have those," the woman replied. "My brother would be thrilled if they went to a good home." Can't argue with that! We thanked her, picked up our things and were on our way.
***
So what do Sports Illustrated and garage sales have to do with The Jalopy Journal? While we were skimming through the pages, we came across a few articles that tied back to rodding and racing. As luck would have it, the November 4, 1954 issue has some excellent Bonneville coverage in full color, as well as snapshots of Stock Cars, Midget and drag racing. Oh, and much like any other magazine of the era, the ads are often just as interesting as the articles.
Now before things get too far out of line, I'd like to point out that Jay has written about this exact feature, "Souped Up and Hot" before here on the Journal. No problem. For my money, there's nothing quite like finding a piece of the hot rod puzzle yourself out in the wild. In this case, it was a double win. Not only did I not expect to come across anything hot rod or custom car related at this sale, I don't often think of Sports Illustrated as the prime place to look, either.
Maybe you know this article, maybe you don't. Either way, here are the highlights of last weekend's garage sale score.
—Joey Ukrop
5

Comments on the H.A.M.B.