Those Pictures on Your Wall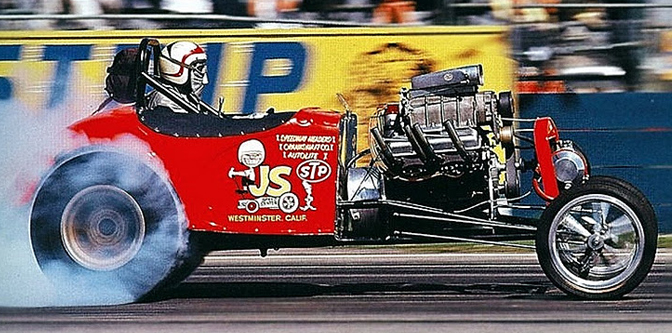 Hot rodding is all about individuality. It has to be. In order to love these cars, you have to be geared a certain way—be a tinkerer, a schemer, a dreamer and a doer. It takes the right eye and the right amount of persistence to get anything on the road and—once it is—you have to be the type of person who can go out and enjoy it. Maybe it's something we learn as we go along, or maybe it's ingrained into us the day we're born. Who's to say?
Today's story takes place at the end of 2011 and overflows into the beginning of 2012. I was a freshman at the University of Missouri and I knew I was destined to be a hot rodder. Even though I didn't have any wheels other than my dad's old Schwinn, I scraped together a tool set and volunteered to fix any and every car possible. (Nobody really had cars, so that made things a little easier on me). Itching for a "nuts and bolts" project, I would periodically disassemble and reassemble the dorm furniture and create new, unorthodox seating/sleeping/shelving arrangements for lack of anything better to do. The residential advisors loved it…
When all that was said and done, I would scour the Internet for old hot rod drag racing films and B-movies to play late into the night. "What the hell is that thing?!" my roommate said as the final scene of The Giant Gila Monster flickered across the screen. "Just watch and see," I replied. Needless to say, he didn't.
In the dorms, you're just like everyone else. If you're not careful, you blend right into the woodwork. Part of being a new person in a new place is figuring out a way to make that place feel like home. Once the furniture was rebuilt and rearranged (again) and all the car ailments were addressed, I realized I needed something to spruce up one of the one-and-a-half walls that were mine to decorate. My Jim Morrison poster had a permanent place on the half wall, which left me with a blank canvas next to my bed. "What'll go there?" I asked.
Easy. Hot rods. Ever since I was a kid, my parents were gracious enough to give me free reign over my bedroom walls. "You can hang up whatever you'd like, as long as you don't use tape," was their mantra. I took full advantage of their offer. Up went super pixilated pictures of Gassers, hot rods and other drag cars that I stole off Byron's Gasser Madness and other early 2000s sites and printed at the Novi Public Library. A Rodder's Journal poster here, a hot rod calendar there, and yes! How about a variety of vintage license plates for good measure? That was my space growing up, and I wouldn't have had it any other way.
But when it came to my college room redux, I had to show some degree of sophistication. This was my first real place away from home, remember. And so, what did I do but hit the H.A.M.B. and start searching for the best drag racing photos. Ones that were bright and colorful; ones that I would be just as happy to see on a gloomy Monday morning as I would be before a night on the town. I came up with nine, loaded them on a flash drive, rode my Schwinn over to the copy shop at the student union and hit print.
With stapler in hand, I made a three-by-three grid of these images. They represented all the things I liked most about hot rodding at the time—speed, power, altered wheelbases, straight axles and piecrust sticks. All nine photos remained on the wall for the remainder of the school year. On the last day, I took them down, one by one, and wrote personalized notes to my friends I'd made throughout the year. Where they are today is anyone's guess.
***
Last week, I was sifting through an old flash drive and came across these images. I haven't thought about them since 2012 and, in a strange way, seeing them brought back a whole lot of memories. When I hung them on my wall, I was still a year out from working here at the Jalopy Journal and a long way away from my first day at The Rodder's Journal. I was just another hot rod-obsessed kid doing everything he could to learn about these cars that we love so much.
Whenever I'm interviewing someone for a feature story, I ask about their childhood. Who were your parents? Do you have any siblings? Did you grow up around cars? Tell me about the moment that ignited your interest in hot rods (which was a great discussion topic a few years ago—you can read the whole shebang here). More often than not, I'll get to hear about not only the people but the places—the garages, the woodsheds, the workshops and the clubhouses—where these early cars come together. But before the cars, there were the childhood bedrooms. The ones plastered with pictures, posters and all sorts of wild model car creations. That's where it all begins, for the schemer, the dreamer, the tinkerer, the doer—the one who will, with any luck, grow up to be a hot rodder.
—Joey Ukrop
End Note: I'll ask you this: was your room covered with all things car when you were a kid? As an adult? Then? Now? Let's hear it.
110

Comments on the H.A.M.B.