Settrington Cup: The World's Tiniest Race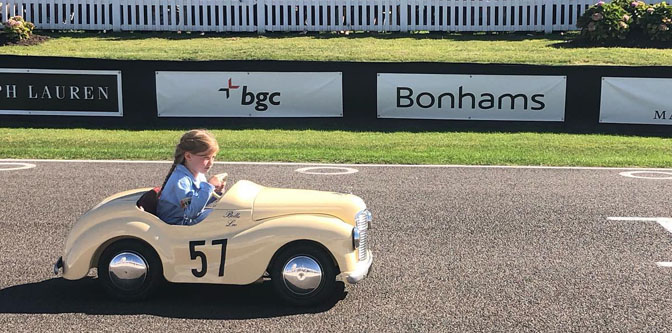 I've just flown home from the Goodwood Revival in Chichester, England, about 2 hours south of London. It's an epic three day event celebrating the best of British Motorsports between 1946- 1966, when Goodwood was an active race circuit. Cars and motorcycles all race by class, so you'll see AC Cobras running very hard against Jaguar E Types and C2 Corvettes. Between the WWII aircraft, vintage vendor displays and the majority of the crowd wearing period clothing, it's like stepping onto the set of a classic car film. There is one race over the weekend that's an absolute crowd favorite: The Settrington Cup, which pits children between ages 4 and 10 in nearly identical Austin J40 pedal cars. The J40 was manufactured at the Austin Junior Car Factory starting in 1950 by disabled Welsh miners, using scrap metal from the Longbridge Austin motor car factory and were built and painted the exact same process as real passenger cars. These beauties were top of the line too, with working horn, headlamps, opening 'boot' and 'bonnet', and pneumatic rubber tires. I wonder if we could get something like this going for a half time show at the HAMB Drags, Ryan?
10

Comments on the H.A.M.B.