Barbour's Tether Car Collection: For Sale!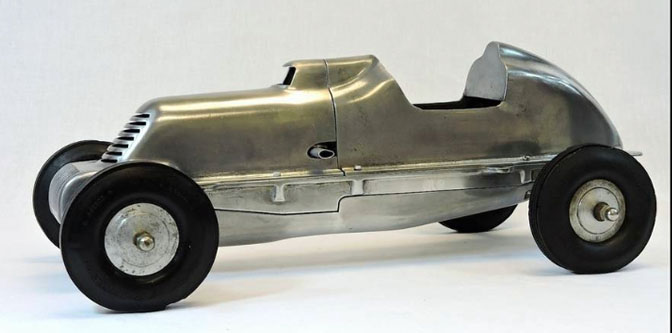 We've covered some good stuff on tether cars in the past, sharing images and clips of old Spindizzies in motion. What doesn't happen too often is a sizable collection of vintage cars all coming up for sale at one time. High quality, pre-war tether cars are as rare as hen's teeth, and the collection of Dick Barbour is as rare and special as they come.
In the words of the auction catalog, "Authentic, period tether car racers are extremely rare today, and the vehicles in the Dick Barbour Tether Car Collection are investment-quality originals. Their scarcity dates back to December 7, 1941, when Americans were encouraged to turn over all items made out of aluminum or magnesium to the government for the war effort—a declaration that included these amazing autos. As such, it's estimated that more than 99 percent of all period tether cars were destroyed at that time, making this vast collection that much more impressive. At present, there are two main, active tether car tracks in America where enthusiasts regularly gather to carry on the great tether car tradition, one in Whittier, California, and the other in New York. They are always active and running, with both vintage and modern-day builds regularly circling the banked walls at ever-impressive speeds.
The cars in the Barbour collection have a truly shocking background of provenance. One of the Duesenberg racers was raced by Augie Duesenberg, a founder of the Duesenberg Motors Company, and Barbour also has two "Richter" racers, a similar example of which sold at an auction in December of last year for $35,000. Roy Richter was a very good friend of Barbour's, as his company Automotion was the largest distributor of Richter's Cragar Wheels in the United States. Richter founded Cragar and Bell Helmets, and he was also a very famous Indy Car owner. The red "Richter" was Richter's personal racer, setting records wherever he took it, and the No. 12 "Richter" was featured in a 1948 issue of "Mechanics Illustrated."
According to Barbour, most of the cars in the collection are ready to race, needing only fuel and batteries for the cars that don't have magnetos. Some cars are "brand new" from the period and are un-drilled. One car even has a working supercharger."
You can see the rest of the amazing collection here.
5

Comments on the H.A.M.B.