Mazi Metal's Excellent Econoline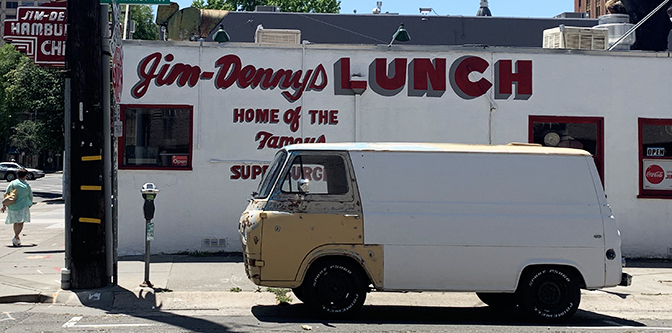 Yama Azim has always wanted an old car. Last month, he finally got one. Not just any car, but a '60s Ford Econoline. I've known Yama for about three years now, and I can't remember a time when he hasn't been searching for a parts hauler of some kind. After spotting this van on Craigslist, he was able to work out an elaborate, multi-part trade involving a motorcycle, some cash and a little bit of persuasion. The deal worked, and on a sunny Sunday in late May, he picked up his new Econoline in Oakland and drove it back to his place in San Francisco's Parkside neighborhood.
Owning a car in San Francisco is difficult— and driving one here is even harder. From the steep hills of North Beach to Market Street's oblivious commuters on electric skateboards, there are potential hazards everywhere you look. Parking is limited and permits aren't cheap, but if you can wade through it all, Northern California can be a great place to drive.
That's why when Yama asked if I wanted to come along on the van's official maiden voyage, I immediately jumped on the opportunity. The destination? The NorCal Cycle Swap in Sacramento—a 200 mile round trip. Rather than rushing to get there on Sunday morning, we decided to break things up into two days. Leave Saturday, come back Sunday. What could possibly go wrong?
Now would be a good time to add that neither of us have much experience with '60s cars. Yama is about as seasoned of a mechanic as one can be at 25 years old, having owned close to two-dozen cars at this point. Originally from Arizona, he spent his teenage years building, breaking and rebuilding '80s BMWs. More recently, he's shifted his focus to metal fabrication and vintage motorcycle repair, hence the need for a shop truck (or, in this case, van).
His well-loved Econoline is basically stock, complete with a freshly rebuilt 170cid inline six and a new set of tires. Other highlights include a three-on-the-tree manual transmission, wood paneled interior (complete with a wonderful wildlife tapestry) and remnants of a turquoise scalloped paintjob. Yama added a few test colors of his own to the passenger side, giving the Ford a sophisticated Rothko-esque look from some angles. Don't worry, it'll get a full repaint when time and money allow. Either way, I dig it.
Sacramento Bound 
On the Saturday afternoon before the swap, I heard the rap of an inline six out my window and knew it was time to go. As the fog rolled in, we loaded a whole lot of motorcycle parts into the Econoline and hit the road. We cut across San Francisco's Richmond district, past the cars, the bars, the busses, and the motor lodges with their towering neon signs blinking in the misty gray air. The van's oversized windshield acted as our window into California's changing landscape. With every mile, it gave us a striking panoramic view of the road that many haven't seen for the better part of half a century. I had a front row seat, and hot damn did I feel lucky.
Wherever we went, people were excited to see the Econoline. Whether it was a thumbs up on the highway or a "I used to live in one of those!" at the swap meet, the van seemed to strike a chord with the young, old and everyone in between. It served as an excellent home base for a day in Sacramento, and it was the perfect vehicle to take to Jim Denny's—one of my favorite diners in all of California.
On the way home, Yama and I were talking about what's next for the Econoline. He mentioned reworking the steering box, fixing the motor mounts and possibly converting to an automatic transmission to help with city driving. Then he paused. "You know what?" he said. "I think I should probably hot rod the motor. Get a bigger carb, new intake manifold and a header." I looked out the window and smiled. "That sounds like a plan to me."
—Joey Ukrop
For the full road-trip experience, I put together this movie highlighting some of the people and places we came across in our travels. Rothko photo from Total History and postcard image from eBay.
22

Comments on the H.A.M.B.