Bug Seasoning
"It's bug season," the man at the gas station said as he plopped a squeegee on his windshield. "Three times more bugs than any other time of year." The woman at the adjacent pump nodded. He might be right, I thought, looking at the front of our car, which had acquired a diverse collection of bugs and subsequent splatters in all shapes, sizes and varieties since leaving California on Monday. A fly here, a moth there—you get the picture.
***
It's a humid 75 degrees out here tonight in western Tennessee, and we're one day away from the last leg of our Rodder's Journal cross-country road trip. In the past week, we've seen lots of highway, a fair amount of bi-ways, swung though small towns and explored big ones. I'll have more on the trip itself later, but all these miles have given me some time to think.
Somewhere in New Mexico on Highway 40, my mind skipped back to my favorite story from Jalopy Journal #2. It's called "Broken Tailbone," and it's a firsthand account of a 1967 road trip in a Model T roadster as told by Doug Hayes. The Olds-powered T is as minimalist as it gets, and with two occupants things got pretty cramped. I won't spoil the ending, but it's one hell of an adventure.
Even though we're making the trip from San Francisco to Virginia in the company van, I can only imagine traveling in a T. I ride old motorcycles so I know it would be hot, cold, dusty, deafening—and absolutely unforgettable.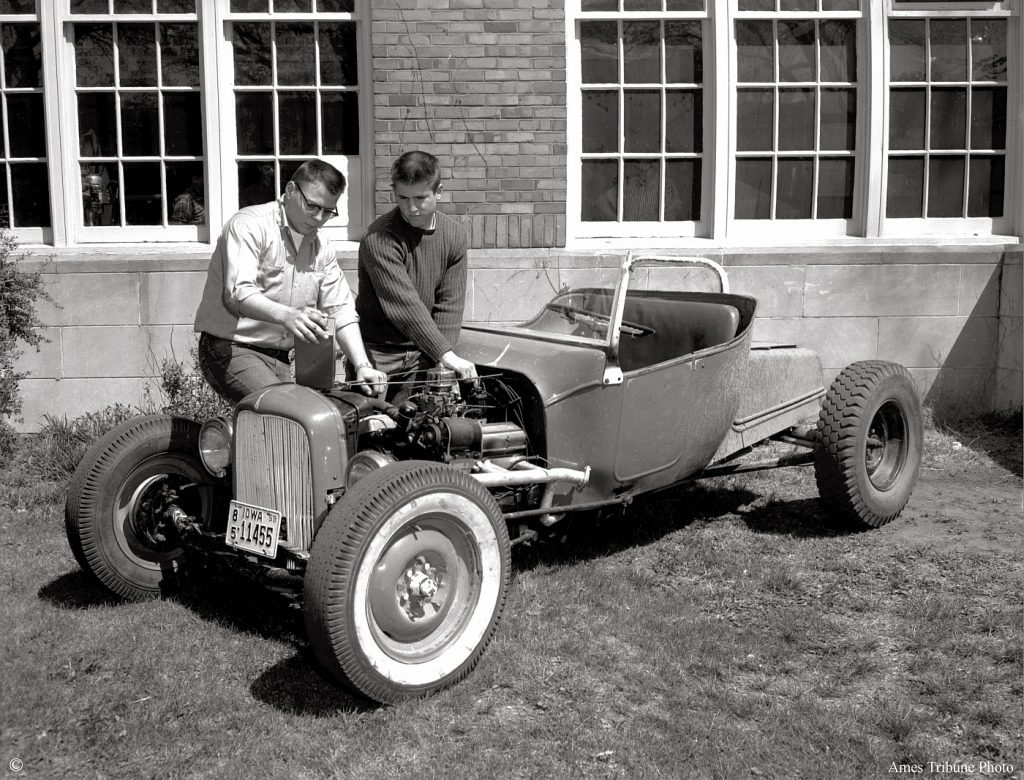 With that being said, there's no time like the present to share a shot of a T I've been digging as of late. From the steel T roadster body and sectioned Deuce grille shell to the single carbed-smallblock Chevy, it's an obtainable goal here in 2019. The car was built by a teenaged Greg Gammack and was reportedly used on both the street and strip. It was neat then and it's even neater now. Whether or not it still exists is anyone's guess, but one thing's for sure: you would need some goggles, glasses or a taller windshield for "bug season" out here on the road.
—Joey Ukrop
Photo from the Ames Tribune. For more Iowa hot rod history, click here.
8

Comments on the H.A.M.B.