Rods Illustrated
My professional life started as a graphic designer… and my life as a designer was born from studying old car magazines. My favorite will always be the very early "Hot Rod Magazine" covers. The simple graphical nature of these pubs still speaks to me in ways nothing else does.
However, I've also always appreciated another publication that doesn't get nearly as much attention – Rods Illustrated. Rods Illustrated was a mid-west based publication that was only in print from 1958 to 1960. I think I have every book they ever printed and all of them feature the same clean, simple, and striking design work. Here's a few covers to give you a feel for the aesthetic:
Anyway, my favorite cover from these folks is probably their first – the October, 1958 issue. And on that gold and red cover sits a great little roadster called the Red Ramrod. This 1928 RPU was owned by Herman Rost out of Fort Wayne, Indiana and featured a full race flathead made ready for battle by a trio of Strombergs and all the other shit needed to push the thing over 100 mph at the drags. It's just a neat little car done right… Dig on the spread:
In my opinion, it's the perfect car feature – short on stupid words, big on images, and a layout that speaks. And the cover? The perspective of the car, the red/gold tones, the checkers, etc… It all ads up to give you a model car box feel. And nothing drives the imagination as much as a model car, right? So good.
As a bonus, my issue was originally owned by a man named Bill Wickwire. Bill filled out a form inside hoping to win a 1959 Chrysler Hemi, but failed to ever find the time to send it in. Check it out: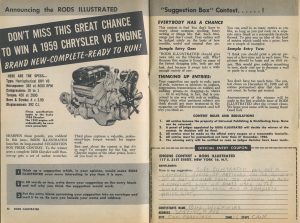 I did some brief research hoping to find out a little more about Bill, but couldn't find anything. Given that he was doing some serious hot rodding in 1958, my bet is that if he is still with us, he is far too practical a man to fuck around with social media. Good on him then… and now.
35

Comments on the H.A.M.B.