Elephant of a Different Era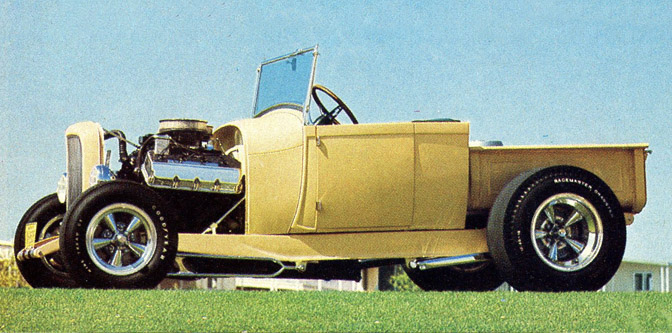 Being an inclusive person in our generally exclusive hobby can be tough. I like getting people involved and, call me selfish, I like to get involved when I can. That can be tricky at times because hot rodding has always revolved around trends. "In" crowd, "out" crowd—you've seen it all before.
Whenever I think of trends in hot rodding, I think about the saying, "Good taste never goes out of style." Vague? Yes. True? You bet. Today we're going to focus on a period that's often overlooked while examining the traditional hot rod timeline: the mid-'70s. Don't fret diehards, this is not an ode to the Resto Rod. It's far from it.
Today we're looking at Charles Harrel's Model A roadster pickup—a longtime favorite of mine. Built in the late-'60s, the truck features all that's right about hot rodding during that time. It has a steel '29 RPU body, abbreviated pickup bed, Deuce grille shell and a matching '32 Ford frame. No chopping, channeling or sectioning here, just Z'd rails and a five-inch dropped PSI axle to help give the car its low-slung stance. Hairpin radius rods are used up front, while chromed ladder bars locate a transversely sprung Pontiac rear. Fully polished Americans were used on all four corners. Note the M&H slicks out back.
Sure, the stance is athletic and the bodywork is top-notch, but all eyes are on the powerplant. Rather than working with something mild, Ol' Charlie went all-out with a 426 Hemi. Highlights include 12.5:1 Jahns pistons, an Isky cam, Mickey Thompson valve covers and a cross-ram intake. The show-detailed Elephant was linked to a pushbutton TorqueFlite.
Carrying out the '60s theme, the interior was trimmed in diamond-stitched green Naugahyde. When combined with the Lemon Yellow paint and the blue tinted glass, Mr. Harrel had himself one memorable RPU. Other than the Datsun taillights, I'd say this car could pass as a contemporary build. And I don't think that's a bad thing.
Yes, this particular car was built during an era that we often overlook, but there's so much about it that's so damn refreshing. I know, I know it has disc brakes, an alternator and those aforementioned mini-truck taillights—but there's no doubt that it fits underneath my ever-changing "Traditional Hot Rod" umbrella. Am I being too inclusive? Probably so. But I don't think very many of you would kick this one out of your garage. Maybe the mid-'70s weren't so dark* for hot rodding after all?
—Joey Ukrop
 Photos by J.R. Bloom, Rod & Custom, May 1974
*Of course there were guys like Pete, Jake and Bud Bryan carrying the torch, and for that they will always be hot rodding heroes.
23

Comments on the H.A.M.B.