A Hot Rod Takes Pikes Peak..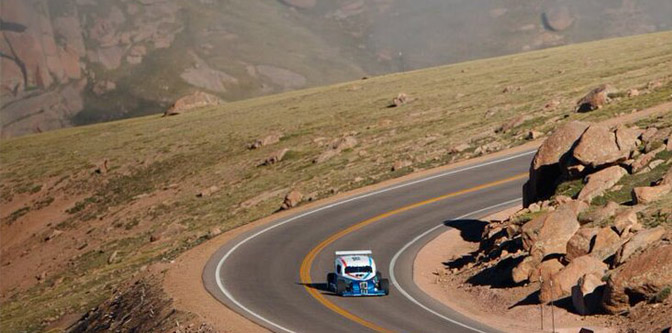 Ray Evernham is a buddy of mine, and just a very cool car guy. He won 3 Cup championships as a Crew Chief for Jeff Gordon, was inducted into NASCAR Hall of Fame last year, has his own TV show on NBCSN, and a jaw-dropping car collection including the American Graffiti '58 Impala, which he restored to 100% movie-correct … But he's not one to rest on his laurels. Last year he set about to building a '36 Chevy sedan racer from the ground up, inspired by the Modifieds he grew up watching, but with lots of current era NASCAR performance parts and know-how. This included an 850 HP injected Chevy Small Block backed by a 4 speed gearbox, and plenty of go-fast goodies.
The 'Ghost' as it was named, debuted at SEMA last year, and along the way Ray got a wild hair to take it to Pike's Peak this past June. Let me say that nobody just shows up to to this world-famous hill climb and 'goes for it'. Its a twelve and half mile course with 156 turns, climbing in elevation over 4,700 feet. Your sweating at the starting line and freezing to death at the finish, and one wrong move can lead to serious injury or even death. Now it's another thing altogether to actually set a record at Pikes Peak your first time out, but that's exactly what Ray and the Ghost did, setting the best time in the Exhibition Class @10:11.33, which actually stole some thunder from the Bentley Motor Cars trying to set the same class record in a race-prepped Turbo V-12 Bentayga SUV. You can bet the Brits spend a few more bucks than he did trying to get to the top faster, but score one for the hot rod!
73

Comments on the H.A.M.B.