The Least Likely Custom?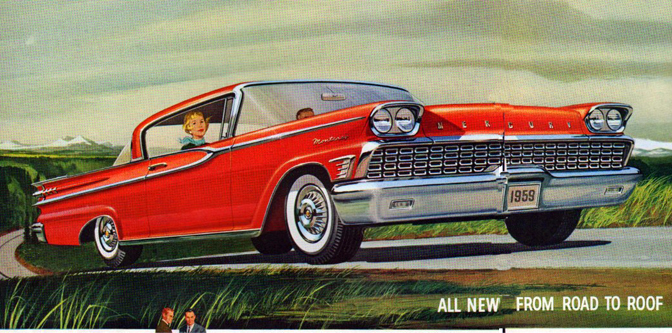 Think of any post-war American car between 1946 and 1964… Whatever your thinking of, chances are at least one of that car has been made into a custom sled at some point in the past 50 years. Now think of a post-war car you've never seen a custom of… One of them popped into my head today: The 1959 Mercury. I've seen a couple '58 Merc wagons customized, and a few custom '60 Monterey coupes, but for some reason I can't think of a single '59 Mercury that I've seen customized, either back in the late 50s or in recent years. Why is that? Sure, it's a bit of an odd-ball to start with, but there are plenty of stranger choices in American car from that time period I've seen at least lowered and shaved. There are some cool design features too, like the panoramic front *and* rear window, angry bat taillights, and that atomic-age grille. Besides, they were really well-built and thoroughly engineered cars in these years, not just based on a lower-priced Ford platform. Alright, prove me wrong and show me what you got… Or go find a '59 Merc hardtop and start dropping it on the ground, will ya?
20

Comments on the H.A.M.B.