Maltese Masterpiece
We continue Dean Jeffries week with a look into the first (and maybe only) Porsche to ever grace the cover of Rod & Custom Magazine (October, 1959). In 1958 Dean sold his first car, a 1948 Mercury Convertible, and bought a brand new '58 Porsche Carrera. He had already established himself as one of the industry's top custom painters, but with this car Dean planned to soil his custom car builder roots.
And that's exactly what he did… While still working at George Barris' shop, Dean formed a new custom front-end for the Porsche that included deeply frenched headlights above a set of Lucs Flamethowers. To clean up the profile, he removed the bumpers and fabricated rolled pans for both front and rear. This gave the car a sleek and aerodynamic look that is capped off by the custom deck lid inspired by an early Mercedes.
At a time when foreign sports cars weren't really turning many heads, Dean's Porsche managed to make a couple of features in various automobile magazines. Dean actually gives the car credit as the one that started him as a legitimate custom builder. And, of course, that's why he built it… That, and well… Dean figured that the sports car market was more lucrative. Those guys actually had money!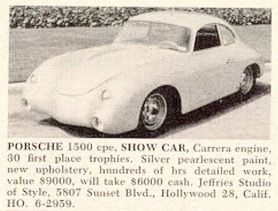 In 1960, Dean did saw his plan through. He put the car in Road & Track Magazine with a sale price of $6000. It was a ton of money back then and only a doctor, lawyer, or bank robber could afford it. Two weeks after selling the car, the FBI turned up on Dean's door. Turns out the buyer was none other than Albert Nussbaum – the infamous bank robber and murder that had found a home on the FBI's top 10 most wanted list.
Nussbaum was tracked to Florida through the car's registration. Just a few weeks later, the FBI surrounded a small beach bungalow with a sharp custom Porsche parked in the driveway. Just as they entered the house, Nussbaum was able slip out and escape. The Porsche, however, wasn't so lucky. It remained parked in that driveway for years.
Dean's first was finally rescued in the 1970's. In fact, the car is currently owned by that same hero and wouldn't you know it? He's a HAMBer. The Carrera should be fully restored by the end of 2009.
………………
48

Comments on the H.A.M.B.