1953: General Motors Halcyon Days…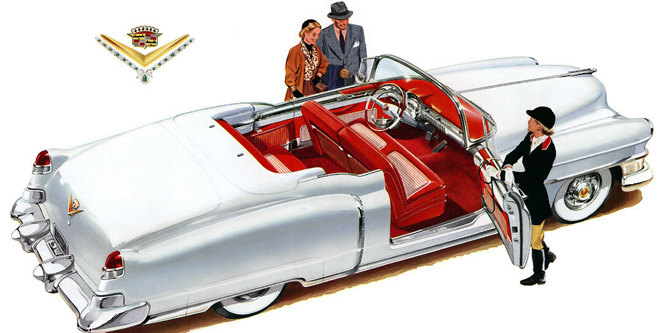 In the early 50s, GM could do no wrong. They were selling millions of cars and trucks per year and lead in global car sales by a very comfortable margin. By 1953, the General was so powerful it could just greenlight whatever new car model it wanted to, regardless of cost or sales projections. A fiberglass 2 seater sports car to rival the Europeans in a very niche market? Sure, introducing the new Corvette! How about a super-low-production, high-cost 'halo' convertible model for not just one brand, but *three* separate divisions: The 1953 Buick Roadmaster Skylark, Oldsmobile 98 Fiesta, and Cadillac Series 62 Eldorado.
The Skylark was introduced to celebrate Buick's 50th Anniversary, and was practically hand-assembled. It featured a 'chopped' convertible top, one-piece windshield, radiused rear wheel wells, and Kelsey Hayes wire wheels. The list price was over $5000, which was 50 percent more than the well-equipped $3200 Roadmaster convertible it was based on! Maybe that's why they sold half as many Skylarks (1690 vs. 3318)
The Fiesta version was similarly a chopped convertible with the same 'sweetheart dip' at the door jam, panoramic windshield, and loaded with unique and exclusive features as well. This baby rang the bell at over $5700 and a mere 458 were produced.
The Eldorado followed suit with the Buick and Olds, but with more bespoke bodywork, a fiberglass parade boot, and Dagmar bumpers. It also offered even more luxurious features like full leather interior, power everything, and a signal seeking radio. The Eldo was priced at a whopping $7750, and with only 532 units sold, it accounted for only one half of 1% of Cadillac's sales in 1953.
Which one would you take?
27

Comments on the H.A.M.B.