The Best Model A Drag Sedan Ever Built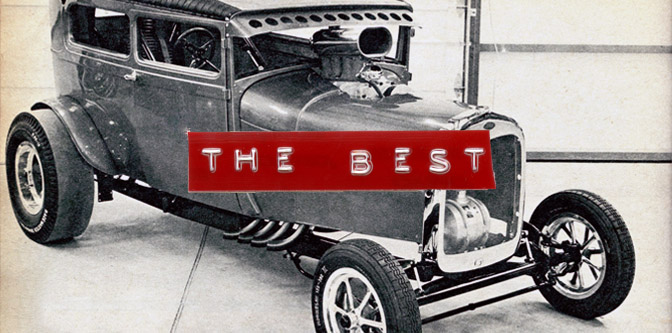 Seasoned members of the writing community strongly suggest that you should avoid the words "first," "only" and "best" at all costs. They spur debate and, when used incorrectly, can kill your credibility and make you look like a fool in print. Trust me, I've been there. Today, I'm throwing caution to the wind and I'm fully prepared for all hell to break loose. You heard it first here: This is the best Model A drag sedan ever built.
What? Seriously. Take a look at it. It's chopped, smoothed and has just about every piece of early-to-mid-'60s speed equipment on it that you could ever want. The magnesium 12 spokes, the mini-Moon tank, the M&H piecrusts and the early Chrysler Hemi with a 6-71 blower and a four-port Hilborn—can it get any better?
It does. Check out how clean everything is. The engine is in just the right spot, nestled deep within the cowl, and the top is sliced to perfection. The drilled visor helps save weight and also makes the sinister sedan even meaner.
Then there are the finishes. Surprisingly, there isn't a whole lot of brightwork on this one—because it doesn't need it. There is a glint of chrome here and there, but nothing excessive. The front suspension, rear suspension, frame and roll bar have all been treated to a liberal coat of gloss black. Nothing more, nothing less. But then there's the interior! Yes! We're talking Zolatone all the way! What's not covered in that spectacular speckled pattern has been upholstered in black naugahyde with narrow pleats.
And who's the man responsible for this bright red strip and show terror? That would be Terry Frost, a diehard hot rodder from Spokane, Washington, with an innate eye for what works. The funny thing about this sedan is that I've always imagined it being Candy Green, a misconception that I can blame on our very own Jeff Norwell. Remember his "Den of Iniquity" illustration he did for Rod & Custom's "Sketchpad" years ago? Well, it featured an equally radical '28 Model A sedan. Chopped? Yep. Bobbed rear fenders? Uh-huh. Set back early Hemi? You got it. Similar car, different color.
Either way, here's Frost's Ford in all its black and white glory. Imagine it whatever color you like—because not matter what you pick, it's still the best Model A drag sedan ever built.
—Joey Ukrop
 Photos by Pete Sukalac, Car Craft, January 1966
32

Comments on the H.A.M.B.