Confession: I Love Crust.
Call it what you want: Crust, Patina, even Character. If your anything like me, you just like original, unrestored stuff more than things that are super shiny and made perfect. It really struck me this weekend when I pulled my '52 Schwinn Red Phantom out of the shed for a bike ride with the kids. The old cruiser came to me many years ago as a 'low rider' basket case in horrible shape, with bent-down forks and a lousy rattle can coat of matte primer. I sprayed some carb cleaner on a rag and slowly wiped away at the top coat of grey. Sure enough, red began poking through as the 60+ year old factory paint & decals were laying just beneath the surface. The factory paint was in far from perfect shape, but it was real… Original. I could never bring myself to 'restore' this bike, or even paint it, unless there was just absolutely nothing left to save. The leather of the seat has shrunk up, the chrome is pitted and dull, but I love her as is. Crusty.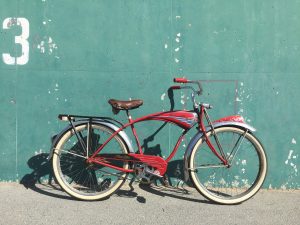 20

Comments on the H.A.M.B.