Hot Rods in the Everyday (Also: Discoveries with "Liquid Wrench Number 2")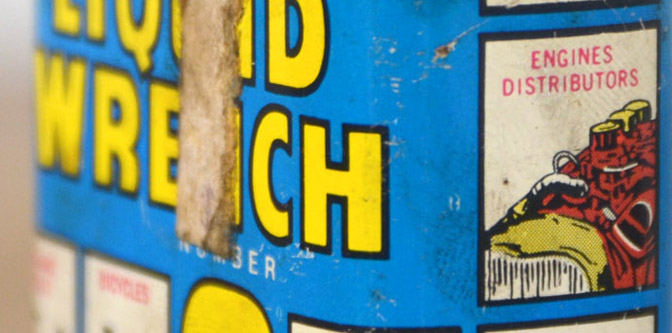 When I first started working on anything of the mechanical nature, all I had was a claw hammer, a few screwdrivers and ragtag collection of seemingly random sockets. A good friend told me that as I got older and took on different tasks, the tools would come in time. More trips to garage sales, a few stops at the hardware store and I'd be on my way. The accumulation of tools was supposed to be a gradual thing—not a rush job by any stretch of the imagination. He was right.
A few yeas have passed since then, and in my little garage I usually have the equipment I need to get things done right. That being said, I'm all for picking up a few extras here and there when the opportunity presents itself. And that's the direction we're headed today.
Remember when I bought that neat old Craftsman toolbox plastered with 1960s decals at a garage sale in San Francisco? That was back in January. When I got it, the woman running the sale told me to fill it up before I took it home—and I did. Looking back, I did somewhat of a haphazard job, collecting everything from a warped California license plate to a heavy metal chain to a pair of machinists' logbooks (which are actually pretty cool, all things considered). But with all that, I also picked up my favorite tool out there—in close contention with Vise-Grips, of course—a bottle of Liquid Wrench.
Chemicals as tools? Well, they are in my book. Liquid Wrench has been held in high regard in my family's garages for years, and I couldn't resist scooping up this 4 ouncer. It was rusty, dusty and apparently full with whatever magic liquid they poured in it more than 50 years ago. Upon bringing it home, I placed it on the shelf and didn't think much of it.
Fast-forward eight or so months. Earlier this week, I was jamming around in the garage working on a set of exhaust pipes when I realized I was in a bind, and all I needed was Liquid Wrench. Down from the shelf it came. As I examined the bottle searching to see how flammable it could potentially be, I took a minute to really study it. What I saw next took me by surprise.
Not only did I have Liquid Wrench, I had a bottle of Solder Seal "Liquid Wrench Number 2" that the previous owner paid $0.30 for at AAFES. It's capable of all the usual stuff, from stopping squeaks to protecting metal to loosening rusted parts. Impressive. I then looked at all the examples of applications: Fishing Reels, Bicycles, Guns, Battery Terminals…and then the best part. In their illustration, they picked a hot rod. It's a fenderless early Ford with a filled Deuce shell and a big OHV V8—likely an Olds or a Cad—with a 3×2 intake. How about that?
Even though I work with hot rods and custom cars on a daily basis, I still get a kick of spotting the slightest link to our world out in the wild. I figure Radiator Specialty Company probably produced this product in the '50s or early-'60s when hot rods were more abundant in mainstream culture. Either way, nothing like seeing a Deuce shell when you don't expect it. I can only wonder—what did the rest of the car look like? Maybe they put it on the bottle of "Liquid Wrench Number 3." I'll check for it at the next garage sale.
—Joey Ukrop
6

Comments on the H.A.M.B.