OG Art From Mike Takagi
So John Mearns has made a tradition out of tackling huge ass projects at my homestead the day after the Round Up. A couple of years ago, he painted the "Atomic" lettering on the face of my shop building and this year, he installed a balcony railing in my home that his shop fabricated. As such, I got a lot of quality time with John's latest traveling partner – Mike Takagi.
That name ring a bell at all? He goes by 6×2 on the HAMB and, more than likely, he's been around a lot longer than you.
See, about 22 years ago the H.A.M.B. was a wee little message board lead by a college student with a head planted firmly up his ass. So firmly, in fact, that there was no way he could oversee the production of a t-shirt that all 50 or so members were calling for. Enter Mike Takagi. He not only did the art for the shirt, but he oversaw both the production and shipping of the shirt as well. He did everything… and then sent me a check. Seriously.
And honestly, I had mostly forgotten about this until this past weekend when I met Mike in person and he brought me the original screen tests from those shirts. As soon as I saw the art, it all flashed back to me. Check it out: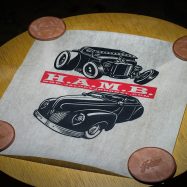 That image brings back a lot of warm memories, doesn't it? It's like taking a sip of a good tequila and feeling it go all the way down… And it makes me smile.  In any case, I figured some of you original fellas out there would enjoy this as much as I did. Take a good gander and be careful behind the wheel afterwards.
Oh. And thanks Mike. Sincerely.
43

Comments on the H.A.M.B.