Jim Lynch's 1953 Studebaker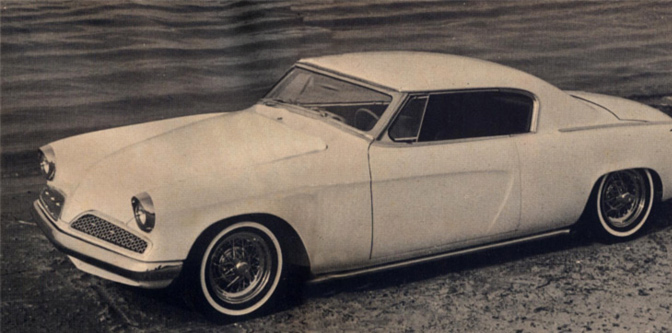 Back in the mid-90's, I was living in Norman, Oklahoma and hanging out with the Wichita crew quite a bit. At the time, there was a scalloped '53 Stude that had a serious grip on me. For the life of me, I can't remember who owned it (Hub?) but I can vividly remember the car following me on a road trip to Arkansas. Through my rearview mirror, I could see the driver hanging his arm out his window and it was as if he was dragging his knuckles on the pavement… The damned thing was that low.
Anyway, I have pictures of that car in my archive somewhere. And as soon as I get a chance, I will do a search and find a few… But that car has always lead me to Jim Lynch's Stude (Custom Illustrated, 1963). It was done in a similar style, but (in my opinion) is ruined by the rear window selection. As such, I've never really had the urge to feature it. Otherwise, however, the car is just about perfect:
That rear glass though, right?
I've always wondered what Jim's car would look like with a more conventional setup. And this morning as I was searching for more photos of Jim's car, I ran across a post by Kustomrama featuring the Barris built Bruce Bartlett '53:
You can see more here. Gorgeous, right? And yeah, the car isn't as hammered but one could argue that the Stude doesn't need a chop at all. It's just so damned clean…
Point is, we need more Studes in our lives.
60

Comments on the H.A.M.B.