Stout Scarab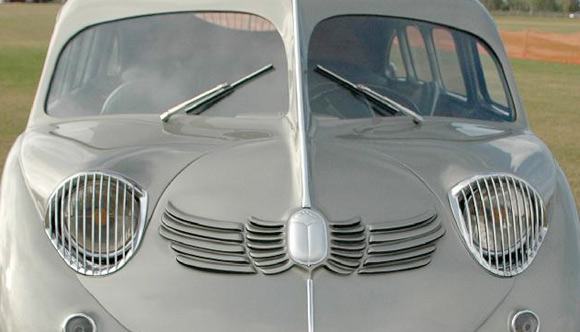 We've talked about the Airflow and the Dymaxion before, but we've never really touched on the Stout Scarab and all of its wierdness. It all started with a loon…
William B. Stout was an aviator and motor journalist (Motor Age) with a wondering mind. While on a cross country trip with this family, William began to ponder the inefficiencies of the automobile when used as a long hauler. We've all been there… He was cramped, his ass hurt, his back hurt, he was tired of the kids screaming, and tired of his wife's toe prints on the front windshield as she "reclined" in the passenger seat. There had to be a better way.
Upon arriving home, William began to brainstorm and sketch his ideas as he went along. After a few packs of cigarettes, a few gallons of coffee, and a couple of sleepless nights, he got it figured. The Stout would have unit body construction, be made of aluminum, and constructed with mechanically proven parts. The Ford flathead was located towards the rear of the car and shifted with a 3-speed box/transaxle of Stout's own design. Independent front and rear suspension systems were sprung with air-assisted coils and located some 135-inches from each other.
The wide body would be as slippery of a shape as an antique mind could figure and would feature a wide, body-over-wheels design. The idea was to create an interior more spacious and flexible than had ever been imagined. As a result, some crazy configurations were available to the lucky few Stout owners. While the driver's seat was in a fixed position, the other seats were mounted on tracks and were capable of spinning, reclining, and for/aft movement. This allowed for a comfy cot to be reside towards the rear of the car and an optional card table to be constructed in the center. All of the conveniences of home while on the road.
Of course, the Stout Scarab never really made it. Most folks think that around nine were build between 1934 and 1939, but there is no official figure. William threw in the towel and lost to the Detroit big boys, but gave them one hell of a shot – don't ya think?
[flv:scarab.flv 569 320]
………
46

Comments on the H.A.M.B.