This or That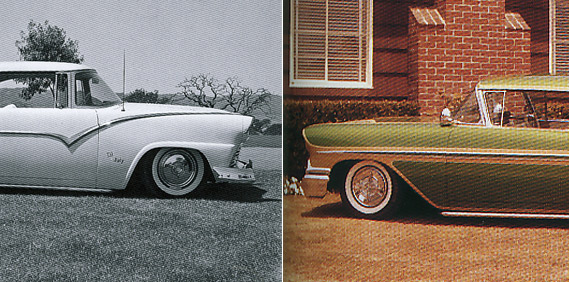 So I got another book from those guys at Motorbooks. "Kustomland" covers the custom car photography of James Potter from 1955 to '59 and it's pretty damn choice, but this post isn't so much a book review as it is a question. Are you clean and subtle or loud and flashy? Which of these two beauties from Potter's work would you park in your garage?
Jim Doss' 1958 Chevy
I've long considered this Watson painted Chevy my favorite '58 ever put together. It's one of those historic cars that would work just as well today as it did in the late 1950's. The tasteful yet daring color combination of gold and green is complimented perfectly by the straight spear side trim ('59 Chevy?), stock yet shaved front-end, clean custom taillights, and the great stance. It all works and results in a car that looks far more polished than a stock '58.
Larry Mammini's 1955 Ford
Now, I'll admit it – this car doesn't scream. If you placed it in a typical modern-era custom car show, it probably wouldn't get much attention. It's quiet… Cerebral… Take some time and really study the details. The artic white paint feels like a blank canvas, but also makes the stock side trim pop off the car. The traditional emblem and handle shaving is expected, but somehow seems much more dramatic with nothing else to distract. In the end though, it's the stance that makes the car.
In both cases, these cars are an improvement over stock in just about every way and that's really the point of a custom – right? I started this article thinking I would pick my favorite while writing… Well, I'm at the end now… Have nothing more to say… And I can't pick a favorite. You guys do it.
68

Comments on the H.A.M.B.