You must remember ZIS. More Cool Russian Cars!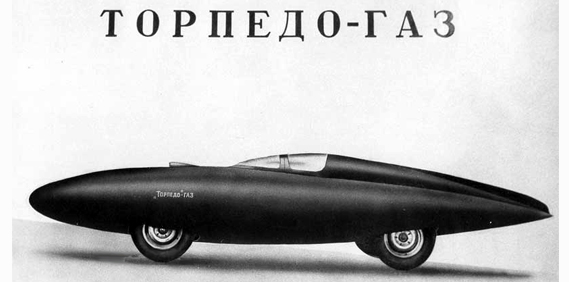 A few years ago I posted about a pre-war Russian roadster called the ZIS 101-A Sport. I recently uncovered a few more Russian speed beauties worth sharing, but from the post-war (mainly 1950s) side of things. There is a hand-built charm and simplicity to each of these vehicles, maybe due to the lack of engineering sophistication Detroit had in this era, but many of them have a strong Bonneville or Dry Lakes vibe that is undeniable. Strange that we were in the midst of a Cold War, yet you feel so much western hot rod influence here. However you see it, these are worth the share…
Moskvich-G3-407 (1961): I know little about this one, except that it was a latter evolution of the 405 speed record car that proceeded it. I love the exposed rivets and single-seat aircraft canopy.
Pobeda-Sport (1950): This little teardrop won three USSR championships (in 1950, 1955, and 1956), making it one of the first and consistently successful Soviet speed record cars. You can see obvious plane influence by the designer, an aircraft builder, who was trying to apply aeronautical engineering to car aerodynamics.
ZIS-112 (1951): Tell me there wasn't some serious GM Motorama influence on this car. The ZIS-112 looked like a home-built Harley Earl special, but unfortunately the extremely heavy weight (2.5 tons) coupled with an underpowered 140 hp motor spelled doom for this car.
Gaz-Torpedo (1951): Like the Pobeda Sport, this speed record concept car was created by Soviet aircraft builders. The wind-tunnel body was built in alloy and featured a very low weight, but the 105 hp Torpedo's straight 4 didn't have a strong enough top speed and remained a prototype. Luckily still one model survived and is rumored to be on display at the Rosengart Museum in Switzerland
HADI 5 and 7 (1960): Another one I know very little about, except that the HADI-5 was a extremely light record-setting racer with 4 wheel independent suspension and featured a 126 hp, holding two USSR speed records.
4

Comments on the H.A.M.B.