As They Were… In Motion.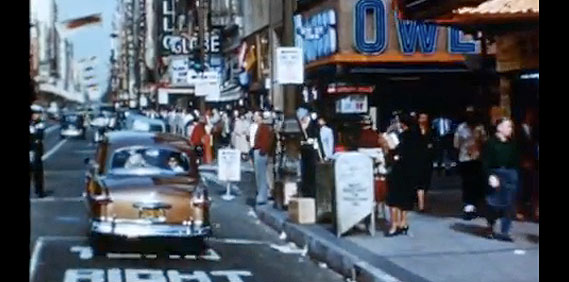 As a follow up to Ryan's great post from yesterday, I found myself pouring over color footage of cars in motion from the mid to late 1950s. I landed on this fun clip of Los Angeles streets from around 1953 (notice the new Ford's on the transport truck leaving the Long Beach plant) . It's under two minutes long, but still a great look back at what the Average Joe was (and was not) driving on the roads of Southern California in this golden era. First of all, I noticed people are using arm signals to switch lanes- You hardly ever see that anymore. These days, if someone has a window down, they are usually smoking or displaying a hand gesture at another car! Now, count the number of imported cars you can spot in that sea of automobiles- Same thing with pickup trucks: Just a handful, and probably owned by a company or small business of some sort. Did you catch the few cars and trucks from the 1930s? Not very many autos in the footage are over 10 years old, and I think I know why: L.A.'s middle class was beginning to BOOM in the mid 1950s, and the entire area was flush with jobs and money. The first thing a working stiff would buy is a new set of wheels for the commute back to the growing suburbs. And can you blame him? Look at the paint colors and two tones available on those honeys! Can you imagine if someone would have set up a camera just like this, but outside of the Ayala or Barris Brothers shop at this same time? Now that's some motion I'd like to see!
28

Comments on the H.A.M.B.